Hawkeye Fan Shop — A Black & Gold Store | 24 Hawkeyes to Watch 2016-17 | Hawk Talk Monthly — Dec. 2016
Editor's Note: The following first appeared in the University of Iowa's Hawk Talk Daily, an e-newsletter that offers a daily look at the Iowa Hawkeyes, delivered free each morning to thousands of fans of the Hawkeyes worldwide. To receive daily news from the Iowa Hawkeyes, sign up HERE.
By JAMES ALLAN
hawkeyesports.com
IOWA CITY, Iowa — Phillip Laux has taken a roundabout to his first Iowa Corn Cy-Hawk Series wrestling dual.
 
Laux is "Next Man In" at 133 pounds for the University of Iowa, where he will fill in for top-ranked Cory Clark for a second straight dual.  Laux will look for his first career victory in Carver-Hawkeye Arena against Iowa State's 10th-ranked Earl Hall.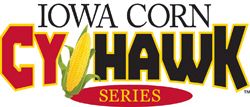 "We love what Phil's about," said UI head coach Tom Brands. "When you go out and get an opportunity, you have to be at your best. When the opportunity shines on you, be ready, and Phil Laux embraces that."
 
Laux, a junior from Brighton, Iowa, was a two-time state champion at Iowa City West High School.  He originally signed a National Letter of Intent with Wisconsin before being released and finding a home at Iowa
 
He redshirted during his first season as a Hawkeye in 2013-14, where he went 23-1 wrestling unattached at 125 pounds. He won titles at Jim Fox, William Penn, and the Pat "Flash" Flanagan Opens.
 
The following season, Laux was in Iowa's dual lineup twice. He went 3-3 at 125 and 133 pounds before electing to transfer to Northwestern at the end of the year.
 
"I let my emotions get the best of me," said Laux."I wasn't thinking straight and didn't have an open dialogue with the coaches. I allowed them to believe in me more than I believed in myself; my mind wasn't in the right place."
 
Laux never competed for the Wildcats and gravitated back to Iowa City. Brands presented him an opportunity, but promised him nothing.
 
"I received a lot of grace," said Laux. "They welcomed me back, but it wasn't like, 'Hey, everything is going to be normal, come on back.' It was like, 'Hey, we have an open door, but you're going to earn anything that you get.'
 
"That has been my mindset, to come in and go to work to the best of my ability."
 
Laux's Hawkeye return began with a second-place finish at the Luther Open.  He won his first three matches before dropping a 4-1 decision to Clark in the finals.  He also placed fifth at the Joe Parisi Open.
 
On Dec. 2, Laux was in the Hawkeye lineup for the dual at No. 20 South Dakota State.  He found out he was stepping in for Clark three days before the dual, and the match's result left much to be desired.  He was defeated by technical fall by the Jackrabbits' Seth Gross, a former teammate.
 
"This is an opportunity I have to take advantage of," said Laux. "I didn't do a good job of that last weekend. I have to come ready to go and take advantage of the opportunity that has been presented before me."
 
Now Laux is preparing to be a part of the Iowa Corn Cy-Hawk Series rivalry.
 
"This is exciting," he said. "We're a Hawkeye State and I have a lot of friends that go to Iowa State. This is a big dual and it's going to be fun to be a part of.  I have to wrestle through positions, be stingy, and come ready to wrestle."
 
Saturday's dual is set to begin at 7 p.m. (CT), and it will be streamed live on BTN Plus with Zach Mackey and two-time NCAA champion Matt McDonough on the call.  Iowa has won 12 consecutive duals over Iowa State.