Hawkeye Fan Shop — A Black & Gold Store | 24 Hawkeyes to Watch 2016-17 | Hawkeyes in the NBA | Hawk Talk Monthly — Dec. 2016 | McCaffery Transcript (PDF)
By JAMES ALLAN
hawkeyesports.com
IOWA CITY, Iowa — It's rivalry week 2.0 for the University of Iowa men's basketball team.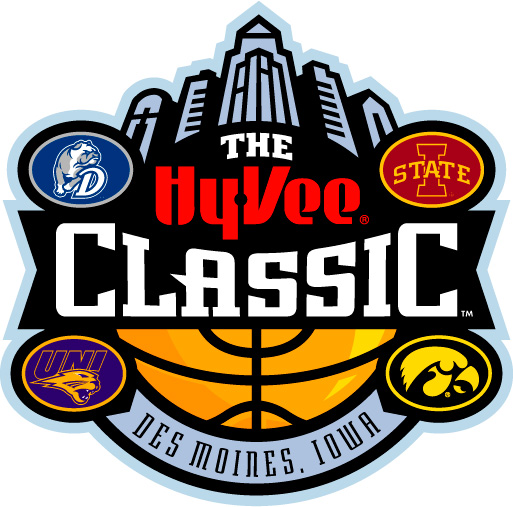 The Hawkeyes face intrastate rival Northern Iowa in The Hy-Vee Classic on Saturday afternoon at Wells Fargo Arena in Des Moines, Iowa.  Game time is 3:31 p.m. (CT).
 
"There is more of a rivalry with us and (Northern Iowa) than us and Iowa State because (UNI) has more in-state players," said senior Peter Jok. "We grew up going against them. A lot of guys are going to be looking forward to this game."
 
Iowa's roster features seven players from the state of Iowa; the Panthers have nine Iowans on their 2016-17 roster. The familiarity runs deeper as players from both programs play alongside one another each summer in the Prime Time League.
 
"There are two UNI players and two Iowa players on each team (in the PTL)," said freshman Jordan Bohannon, a Marion, Iowa native. "We are all good friends and all talk to each other.  It's going to be a different aspect to the game because we know each other and what they're going to be."
 
Northern Iowa brings a two-game winning streak into The Hy-Vee Classic, following back-to-back victories over South Dakota State and North Dakota.  The Panthers also have neutral-site victories over Arizona State and Oklahoma.
 
Senior Jeremy Morgan — a Coralville, Iowa, native — leads the Panthers in basically every offensive category.  The guard averages 18.1 points and 7.3 rebounds and has team highs with 29 assists, 27 steals, and 15 blocks.  He shoots 45.5 percent from the field.
 
Freshman Spencer Haldeman is the only other UNI player in double figures, averaging 10 points per contest.
 
"This is not a one-man team and it's not a five-man team," said UI head coach Fran McCaffery. "They've changed their starting lineup, played different big guys, different guards. They've made 20 3s in a game and beat high-major teams.
 
"They've come back — they were down 18 against Oklahoma and won; that tells you a lot about the character of this team. When you watch one game to the next, it's a different lineup that's getting the job done. That makes it hard to prepare for because they're a deep club."
 
The Panthers are known for their pack-line defense under head coach Ben Jacobson. The Hawkeyes faced a similar style in the fifth game of the season — a 74-41 loss to No. 6/7 Virginia.  McCaffery believes UNI's defense — which surrenders 62.3 points per game — is on par with the Cavaliers.
 
"We have to run our stuff," said freshman Cordell Pemsl. "We know they're a good defensive team and their help is amazing. We can't go flying and making passes and being immature with the ball.  We know their defensive presence is going to be there, but we can't let it rattle us. 
 
"We have to stay with our game plan, do what we need to do.  It's going to come down to who is going to execute and who is going to want to play defense because both teams can score the ball."
 
Iowa leads the all-time series over Northern Iowa, 34-10.  The Panthers are 4-4 against the Hawkeyes since Jacobson took over the program in 2006-07.  The two teams have split a pair of meetings at The Hy-Vee (formerly the Big Four Classic) in Des Moines.
 
Saturday's game will be streamed live on ESPN3 with Jordan Bernfield and Mac McCausland on the call.