Hawkeye Fan Shop — A Black & Gold Store | 24 Hawkeyes to Watch 2016-17 | Hawk Talk Monthly — Dec. 2016
IOWA CITY, Iowa — The University of Iowa women's swimming and diving team swept the Big Ten Conference weekly honors following its dominating 197-101 Iowa Corn Cy-Hawk Series victory over Iowa State last Friday.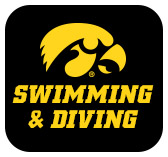 Senior Emma Sougstad was named Big Ten Swimmer of the Week, while freshmen Thelma Strandberg and Hannah Burvill garnered Diver of the Week and Freshman of the Week honors, respectively.
 
Sougstad earned the weekly nod after swimming to four first-place finishes in helping the Hawkeyes to their seventh straight win over rival Iowa State.  She touched first in the 100 (1:01.08) and 200 breast (2:14.06), posting NCAA "B" qualifying times in both events.  Sougstad also took first in the 200 IM (2:01.70) before contributing to a first-place showing in the 200-medley relay (1:39.62).
 
The Swimmer of the Week honor is the fifth of Sougstad's career and second this season. She was named co-Swimmer of the Week following her performance in a road dual at No. 16 Minnesota in late October.
 
Strandberg earned her first career weekly diving honor after tallying a pair of first place finishes against the Cyclones.  The Kristiansand, Norway, native posted two NCAA Zone qualifying scores to win the 1-meter (278.15) and 3-meter springboard (297.35) events.
 
Strandberg is the second Hawkeye diver to earn the weekly conference honor this season, joining sophomore Jacintha Thomas (Oct. 5).
 
Burvill claimed Big Ten Freshman of the Week for a second time this season after swimming to four first-place finishes against the Cyclones. She also earned the conference award on Oct. 5. 
Burvill posted NCAA "B" qualifying times in the 100 (49.74) and 200 free (1:47.37).  She also swam the final leg of Iowa's first-place 200-medley relay (1:39.62), and contributed to Iowa's winning 400-free relay (3:24.78).
 
Next up for the Hawkeyes is a trip to South Bend, Indiana, for a double dual against Illinois and Notre Dame.  The two-day event begins on Jan. 12 at 5:30 p.m. (CT).