Hawkeye Fan Shop — A Black & Gold Store | 24 Hawkeyes to Watch 2016-17 | KinnickEdge.org | Hawk Talk Monthly — Dec. 2016 | Outback Bowl Tickets | Outback Bowl Central | Outback Bowl Merchandise | Outback Bowl Tours | 2017 Outback Bowl Media Guide | VIDEO — Iowa's Outback Bowl History | Photo Gallery | Coach Ferentz Transcript (PDF)
By DARREN MILLER
hawkeyesports.com
IOWA CITY, Iowa — A streamlined, Iowa City-centered bowl prep continues for the No. 21 University of Iowa football team as the Hawkeyes eye their first postseason victory since 2010.
 
The Hawkeyes (8-4), who play No. 20 Florida (8-4) in the 2017 Outback Bowl, depart for Tampa, Florida on Monday. Iowa finished the regular season with three straight wins and if it adds a fourth Jan. 2, you can check one of three preseason goals off its list.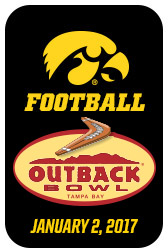 "In July (our players listed winning a bowl game) as one of three things they were really focused on," Iowa head coach Kirk Ferentz said Thursday at a news conference in the Stew and LeNore Hansen Football Performance Center. "They are aware of it.
 
"That is something they want to do and it's going to come with a price. It's going to be tough to accomplish. We seem to have a habit of being underdogs in bowl games and that's going to be the case in this one."
 
Two other team goals were to keep all four traveling trophies in Iowa City (the Hawkeyes retained three) and return to Indianapolis and win the Big Ten Championship (they finished a game behind Wisconsin in the West Division).
 
Iowa won a school-record three consecutive bowl games from 2009-10 (2009 Outback, 2010 Orange, 2010 Insight), but has since lost the 2011 Insight, 2014 Outback, 2015 TaxSlayer, and 2016 Rose bowls. Ferentz is spending more time utilizing Iowa's state-of-the-art Richard O. Jacobson Football Operations Building and said if not for an Outback Bowl requirement, the Hawkeyes would not leave home until Dec. 27.
 
"We would have stayed one more day here and functioned in our home environment," Ferentz said. "The idea was to streamline things from (Thursday) on with our practice schedules and hopefully the players will respond."
 
Iowa will receive a boost on offense with the return of senior lineman Cole Croston and improved health of senior tight end George Kittle.
 
"He's got a couple days now and so far, so good," Ferentz said of Croston. "He is hardly out of the woods and he missed a lot of time, but the good news is everything is positive right now and hopefully we can keep him on track. If so, we plan on playing him if he's able to play."
 
As for Kittle, who has 21 receptions and a team-leading four touchdown catches:
 
"He looks more like George Kittle now, which is a good thing," Ferentz said.
 
 
On defense, freshman cornerback Manny Rugamba appears to be a game-time decision, although Ferentz is preparing as if he will not be available because of missed practice time.
 
"We have to play him like he's not going to be there, but there's a chance he could be ready," Ferentz said. "Then you're dealing with the issue of how much practice time he will get before the game."
 
Ferentz refers to Iowa's cornerbacks, already thin with the loss of senior Greg Mabin with a fracture, as "the few, the proud, the three."
 
"We're really thin," Ferentz said. "We were thin when (Rugamba) was still healthy. The calvary ain't coming, we have to make do with what we have. If somebody has to move out there, we'll do that, but I have no idea who that would be."
 
Ferentz opened with news of what he called an early Christmas present: senior wide receiver Matt VandeBerg has been granted a medical hardship waiver by the NCAA and will return to the program in 2017. In four games this season, VandeBerg caught 19 passes and three touchdowns. (To read more about VandeBerg, click HERE.)
 
"Matt is a tremendous player and leader on our football team," Ferentz said. "We missed him this year and it will be great to have him back."
 
Then Ferentz turned sarcastically humorous by referencing the topic of two prominent collegiate student-athletes who will skip their team's bowl games to concentrate on the NFL Draft.
 
"The bad news is that Matt informed me yesterday he will not play in next year's bowl if we earn a bid, so we'll have to deal with that."
 
Iowa and Florida will kick off at noon (CT) on Jan. 2 from Raymond James Stadium. The Hawkeyes have played in four other Outback Bowls, winning twice.