Hawkeye Fan Shop — A Black & Gold Store | 24 Hawkeyes to Watch 2016-17 | KinnickEdge.org | Hawk Talk Monthly — Dec. 2016 | Outback Bowl Tickets | Outback Bowl Central | Outback Bowl Merchandise | Outback Bowl Tours | 2017 Outback Bowl Media Guide | VIDEO — Iowa's Outback Bowl History | Photo Gallery – Outback Bowl News Conference | Photo Gallery – Dec. 28 Practice | Ferentz Outback Bowl News Conference Transcript (PDF)
By JAMES ALLAN
hawkeyesports.com
TAMPA, Fla. — The 2017 Outback Bowl is a bonus game for the University of Iowa football team and a difficult one at that.
 
The 25th-ranked Hawkeyes face No. 20 Florida on Jan. 2 at Raymond James Stadium in Iowa's fifth Outback Bowl appearance in school history.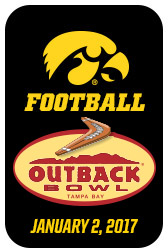 "Our team is excited to be here," said UI head coach Kirk Ferentz at a joint Wednesday news conference with Florida head coach Jim McElwain at Holiday Inn Westshore. "To come out of the Midwest and be in a such a great city and in such great weather, we're thrilled about that.
 
"Our players had a good fall and did a good job on the field and in the classroom. This is kind of a bonus game for us and it is a big challenge."
 
The Hawkeyes arrived Dec. 26 and went through a light workout Tuesday before taking the field in shells Wednesday morning.  It gave the team a chance to adjust to the 80-plus degree weather and Florida sunshine.
 
"They had a chance to sweat yesterday a little bit and sweat today," said Ferentz. "The first couple days any time you go to a bowl site, it's usually not perfect, but it's fine once you get acclimated."
 
Talking about acclimation, the Hawkeyes are just that with Florida quarterback Austin Appleby — a graduate transfer from Purdue. Iowa defeated Appleby and the Boilermakers, 40-20, during the 2015 season, but Appleby completed 23-of-40 passes for 259 yards and one touchdown. 
 
The subject of Appleby led to one of several friendly banters between Ferentz and McElwain.  Ferentz was asked whether Iowa had any advantage by having familiarity with the Gators' quarterback.
 
"(Appleby) played pretty well against us last year," recalled Ferentz. "I am not real enthusiastic about seeing him again. It's not like we have a great memory from last year's game. So no."
 
McElwain quickly interjected with a chuckle. "We put that game plan in."
 
In an age when offense dominates college football, the Jan. 2 tilt will be centered around special teams and defense.  Both teams surrender 17.9 points per game; Iowa does so allowing 352.8 yards, while Florida gives up 298.6 yards per contest.
 
"It's interesting because when you watch teams play that give up a bunch of points, at the end of the day, the idea is to try to get into the fourth quarter with an opportunity to win, and great defenses do that for you," said McElwain.
 
Iowa has been bowl eligible in 15 of the last 16 seasons under Ferentz. It's a feat that has McElwain impressed with the UI program.
 
"The consistency (Ferentz) and his staff have had throughout the years, every year this is one of those schools that you get an opportunity to play and you look forward to it because it's a chance to test yourself against one of the best and most consistent programs throughout college football," said McElwain. "For our guys, it will be a great challenge."
 
When asked about how the bowl game can affect momentum and perspective for 2017, both coaches turned their focus to the present.
 
"This is one more important game in the 2016 season," said Ferentz. "What's important about the game is finishing this season. I think both teams are going to strive to play their best and then you let the chips fall where they may.  It's more about this team, the 2016 season and the seniors that have led this thing on both sides… that's really what it gets down to."
 
"Anytime you get the opportunity to go complete, I'm going to try to beat you," said McElwain. "None of us are here for a participation ribbon; winning, that's something you try to do no matter what you do."
 
On the personnel front, Ferentz expects senior Cole Croston to play on the offensive line, but the Hawkeyes will be without freshman defensive back Manny Rugamba, who has officially been ruled out. He won't be available along with senior Greg Mabin and junior Drake Kulick.
 
The 2017 Outback Bowl will be televised on ABC at noon (CT) on Jan. 2 and will be broadcast to a national audience and about 140 countries around the world.