Hawkeye Fan Shop — A Black & Gold Store | 24 Hawkeyes to Watch 2016-17 | KinnickEdge.org | Hawk Talk Monthly — Dec. 2016 | Outback Bowl Tickets | Outback Bowl Central | Outback Bowl Merchandise | Outback Bowl Tours | 2017 Outback Bowl Media Guide | VIDEO — Iowa's Outback Bowl History | VIDEO — Splitsville | VIDEO — Hawkeyes Hold First Practice in Tampa | Photo Gallery
By JAMES ALLAN
hawkeyesports.com
TAMPA, Fla. — Tuesday night the University of Iowa football team took its talents to Splitsville.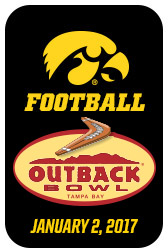 The Hawkeyes went through a light morning workout Tuesday morning at the University of Tampa before heading to Channelside Bay Plaza for an evening of food, bowling, and billiards.
 
"This was a fun night to come out and spend the evening bowling," said junior tight end Peter Pekar. "I love bowling, but I didn't play the best tonight. It was a good time getting to come out and compete against the other team."
 
After playing amongst teammates for the first hour, Iowa and Florida selected its "Dream Teams," selecting the team's top six bowlers for a friendly competition.
 
Iowa's dream team consisted of seniors C.J. Beathard, Riley McCarron, Cole Croston, and George Kittle, along with Pekar and freshman Amani Jones.
 
"We selected the teams on who bowled the best in the first few games we played," said Pekar. "Then everybody played terrible."
 
The Gators jumped out to an early 90-pin lead before the Hawkeyes fought their way back.  It was a 60-pin deficit midway through and it was at 40 pins heading into the eighth frame.  Florida surged late to claim a 797-691 victory.
 
"It was fun to compete against Florida in this setting," said Pekar. "It's a friendly competition and a fun deal before the game."
 
Junior Ike Boettger says the Hawkeyes are enjoying the Florida sunshine and team-bonding festivities early in the week, but the team rolls up its sleeves when it is time to work.
 
"These first couple of days it's fun to hang out when we're not on the practice field," said Boettger, an offensive lineman from Cedar Falls, Iowa. "Toward the end of the week, and as we get closer to game day, we'll tighten everything up.
 
"When we're on the practice field, we buckle down and get to work."
 
On Wednesday morning, the Hawkeyes will take the field for their second practice of the week before enjoying an afternoon at the amusement park Busch Gardens. 
 
The 2017 Outback Bowl will take place on Jan. 2 at Raymond James Stadium.  The game will kick off at noon (CT).