Hawkeye Fan Shop — A Black & Gold Store | 24 Hawkeyes to Watch 2016-17 | KinnickEdge.org | Hawk Talk Monthly — Dec. 2016 | Outback Bowl Tickets | Outback Bowl Central | Outback Bowl Merchandise | Outback Bowl Tours | 2017 Outback Bowl Media Guide | VIDEO — Iowa's Outback Bowl History
Editor's Note: The following first appeared in the University of Iowa's Hawk Talk Daily, an e-newsletter that offers a daily look at the Iowa Hawkeyes, delivered free each morning to thousands of fans of the Hawkeyes worldwide. To receive daily news from the Iowa Hawkeyes, sign up HERE.
By DARREN MILLER
hawkeyesports.com
TAMPA, Fla. — Reese Morgan recalls his "ah-ha moment" when it comes to University of Iowa senior defensive tackle Faith Ekakitie.
 
Morgan is in his 17th season with the Hawkeyes and fifth as defensive line coach. In that time he has coached All-Big Ten performers Carl Davis, Jaleel Johnson, Nate Meier, Drew Ott, and Louis Trinca-Pasat.
 
Ekakitie never received all-conference accolades, but lately he has been playing on par with any defensive tackle around.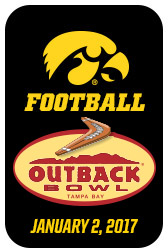 Entering the 2017 Outback Bowl, the 6-foot-3, 290-pounder from Brampton, Ontario, Canada, has 27 tackles, two tackles for loss, two pass breakups, and two quarterback hurries. Those are solid numbers for someone playing in the trenches.
 
But Morgan knew something was clicking with Ekakitie even before that, while the Hawkeyes were putting the finishing touches on a 12-0 regular season in 2015.
 
"I would go back to the last couple games (of 2015)," Morgan said. "I'll take you back to a moment in the Big Ten Championship Game (versus Michigan State on Dec. 5, 2015) when Faith was really playing — he had to play — we had an injury (to junior Nathan Bazata).
 
"(Faith) went across and took their left tackle (Jack Conklin), who was a first round (NFL) draft choice. He played him physical and put him on the ground."
 
"Physical" is what Ekakitie remembers about the 16-13 loss to the Spartans.
 
"It was by far the most physical football game I have been part of," Ekakitie said. "For me, I don't want to say that's when the light turned on, but at that point it was either compete or get your teeth kicked in. I think I did a decent job competing that day."
 
Ekakitie had 13 tackles as a junior and seven came in the final three games against Nebraska, Michigan State, and Stanford.
 
"I started putting together consistent practices, I was playing more and my confidence was growing," Ekakitie said. "I made a few plays in the Nebraska game and I thought I had the ability to do this — coach had been telling me I could do it all along and I finally did it."
 
And he hasn't stopped.
 
In eight of Iowa's 12 games this season, Ekakitie has had at least three tackles. He established a career-high with six against Wisconsin. In his final five games, Ekakitie has made 19 stops, despite being shutout at Illinois.
 
"Faith has steadily worked at it and he has played his best football the last three games, no question about it," Morgan said. "He is playing with more confidence, is more productive, and is having a lot of fun."
 
In the final three regular season games — wins against No. 2 Michigan, Illinois, and No. 15 Nebraska — the Hawkeyes allowed an average of 83 rushing yards per game, the stingiest in the Big Ten. Michigan rushed for 98 yards (153.7 yards below its average), Illinois rushed for 61 (95.8 below its average), and Nebraska rushed for 90 (96.2 below its average).
 
"There isn't a magic answer. It's everyone being a little more focused on small details and getting their job done," Ekakitie said of the Iowa defense. "When you have 11 guys on defense and everyone is focused on getting one percent better, you add that up, the defense as a whole is getting 11 percent better. With everyone focusing on getting a little better and being more detailed, it added up for us down the road."
 
Iowa entered its game against Michigan with a record of 5-4. Ekakitie didn't call that a must-win situation against the Wolverines, but he emphasized that it is against Florida in the Outback Bowl. The Hawkeyes have lost four straight bowl games.
 
"We have to win. That has been the focus around here for the past couple weeks," Ekakitie said. "When you talk about must-win games — for the seniors who haven't won a bowl game — you can put that in the category of a must-win game. It is one of our goals for the season and it's sitting there for us to accomplish."
 
Iowa and Florida kick off at noon (CT) on Jan. 2 inside Raymond James Stadium in Tampa, Florida.