Hawkeye Fan Shop — A Black & Gold Store | Hawk Talk Monthly — Dec. 2016 | 24 Hawkeyes to Watch: Sammy Brooks | Notebook in PDF Format
 #3 IOWA vs. #16 WISCONSIN / at #13 MINNESOTA
ON THE MAT
The University of Iowa wrestling team hosts No. 16 Wisconsin on Friday at 7 p.m. (CT) on Mediacom Mat at Carver-Hawkeye Arena. Tickets are available at the UI Athletics Ticket Office, over the phone at 1-800-IA-HAWKS, and online at hawkeyesports.com.
      The Hawkeyes' weekend continues Sunday at Minnesota. The schools wrestle for the Border Belt on Sunday at 11 a.m. at the Sports Pavilion.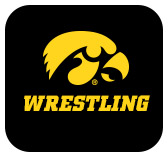 WHERE TO WATCH
Friday's dual against Wisconsin is streamed live on BTN2Go. Sunday's dual is televised by BTN. Tim Johnson and Jim Gibbons will call the action.
 
THE SERIES — WISCONSIN
Iowa leads the all-time series, 76-8-3, including a 38-4-1 all-time record in Iowa City.
    The Hawkeyes have won the last six meetings and 37 of the last 38 dating back to 1975. Wisconsin's only win during that time was a 21-14 decision inside Carver-Hawkeye Arena on Jan. 27, 2007.
    The series dates back to 1923, an 8-6 Iowa win. The teams had met every year from 1934-2010 before being omitted from the schedule in 2011.
    Wisconsin head coach Barry Davis is a 1985 graduate of the University of Iowa. He is one of six Big Ten coaches to graduate from Iowa. Davis was a four-time All-American at Iowa and won three NCAA championships for the Hawkeyes (1982, 1983, 1985). His wife, Nan, won the 1985 NCAA title in the 10,000 meters while competing for the Hawkeyes.
 
THE SERIES — MINNESOTA
Sunday's dual is the 102nd meeting between Minnesota and Iowa. The schools first met in 1921, a 39-3 Iowa victory in Iowa City. In the most recent meeting, Iowa won 34-6, handing the Gophers their largest series loss since 1992.
      The Hawkeyes lead the all-time series 72-28-1. Iowa is 31-10-1 all-time at Minnesota, including a 23-12 win in 2015. Iowa has won two straight in the series.
      The schools have met 14 times since 2006-07, Tom Brands' first season as Iowa's head coach. The Hawkeyes own a 10-4 advantage during that stretch.
 
HAWKEYES AT HOME
The Hawkeyes are 237-24 all-time at Carver-Hawkeye Arena since moving from the UI Field House in 1983. The Hawkeyes have recorded 20 undefeated seasons in Carver-Hawkeye Arena, the most recent in 2012-13 (9-0).
      Carver-Hawkeye Arena has hosted two United States Olympic Team Trials, four Big Ten Championships (1983, 1994, 2005, 2016), and four NCAA Championships (1986, 1991, 1995, 2001). The Hawkeyes have won five tournament titles on their home mat, including the 1983 and 1994 Big Ten Championships, and the 1986, 1991 and 1995 NCAA Championships.
 
ROAD TRIPPING THROUGH THE B1G
Iowa has won 20 straight conference road duals. The Hawkeyes' last road loss was Jan. 22, 2012 at Penn State (22-12).
      The Hawkeyes are 3-0 on the road in the Big Ten this year, with wins at Purdue (34-3), Michigan (31-6), and Michigan State (44-0).
 
UNDEFEATED HAWKEYE
Senior Thomas Gilman enters Friday's dual as the last unbeaten Hawkeye. Gilman has opened his senior season with 19 straight wins. In the history of Iowa wrestling, 15 wrestlers have finished the season with a perfect record (minimum 20 matches). Four of those wrestlers were able to perform the feat twice. They include Mark Ironside, Lincoln McIlravy, T.J. Williams and Jim Zalesky. Iowa coaches Tom Brands and Terry Brands are among the 15 wrestlers. Tom went 45-0 in 1990-91 and Terry went 35-0 in 1991-92.
 
chasing milestones
Four Hawkeyes are within striking distance of career win No. 100. Senior Thomas Gilman leads all active Hawkeyes with 94 career wins, three more than senior Sammy Brooks. Senior Cory Clark has 88 career wins, and junior Brandon Sorensen has 87 career wins. Forty wrestlers in the program history have accumulated 100 career wins, including coaches Tom Brands (158), Terry Brands (137), and Ryan Morningstar (110).
 
THOMAS GILMAN, 125, SENIOR
Senior Thomas Gilman, the nation's top-ranked 125-pounder, is 19-0 and has scored bonus points in 17 matches. Gilman has set a career high with seven technical falls and leads the team with seven pins. He averages 5.0 points per win, and 4.9 points in 10 dual wins (three pins, four technical falls, and two major decision). He has six wins over ranked opponents.
    Gilman won by 25-10 technical fall in his only meeting with Jens Lantz at the 2016 Midlands.  He is 2-0 in his career against Ethan Lizak, winning by 11-4 decision at the 2014 Midlands and by 23-7 technical fall at the 2015 dual in Minnesota. 
 
CORY CLARK, 133, SENIOR
Senior Cory Clark is ranked as high as second in the national polls. He was the top-ranked 133-pounder until losing for the first time on Jan. 15 to Oklahoma State's Kaid Brock.
    Clark is 10-1 overall with four pins and two technical falls. He is 1-1 this year against top-10 opponents, and 31-14 in his career against ranked opponents. He has never faced Wisconsin's Eli Stickley or Minnesota's Mitch McKee.
 
TOPHER CARTON, 141, SENIOR
Senior Topher Carton is ranked as high as 17th in the national polls. He is 17-5 with a career-high five major decisions and four pins. Carton draws two ranked opponents this weekend. He has never faced Wisconsin's Cole Martin and lost his only decision to Minnesota's 16th-ranked Tommy Thorn, 6-2, at the 2014 Luther Open.
    Carton has faced faced five straight ranked opponents (2-3).
 
BRANDON SORENSEN, 149, JUNIOR
Junior Brandon Sorensen, ranked No. 4 nationally at 149, is 18-2 with a team- and career-high eight major decisions. He has scored bonus points in 14-of-18 wins.
    Sorensen is 3-2 this year against ranked opponents, 24-9 in his career against ranked opponents, and 11-8 all-time against top-five opponents.
    He is 1-0 all-time against Wisconsin's Andrew Cone (W, 6-3), and is meeting Minnesota's Carson Brolsma for the first time.
 
MICHAEL KEMERER, 157, R-FRESHMAN
Redshirt freshman Michael Kemerer, ranked No. 2 at 157, is 20-1 with 12 wins by bonus points and four wins over ranked opponents, including three in the top 10. Four of his last six matches have been against top-10 opponents. He was the first Hawkeye redshirt freshman to win his first 19 matches since Matt McDonough, won 32 in a row to start the 2009-10 season.
    Kemerer has never faced Wisconsins's Jared Scharenbrock and or Minnesota's Jake Short.
 
JOEY GUNTHER, 165, R-FRESHMAN
Redshirt freshman Joey Gunther is 12-4 overall with a pair of losses to top five opponents.  Six of Gunther's 12 wins have been by bonus points. He has never faced Wisconsin's Isaac Jordan (3rd) or Minnesota's Nick Wanzek (15th).
 
ALEX MEYER, 174, SENIOR
Senior Alex Meyer is 15-5 with a career-best six major decisions. Four of his last five opponents are ranked in the top 10.
    Meyer has never faced Wisconsin's Ryan Christensen or Minnesota's Chris Pfarr. Sammy Brooks defeated Pfarr, 17-2, in 2016.
 
SAMMY BROOKS, 184, SENIOR
Senior 184-pounder Sammy Brooks is 17-2 overall with 12 wins by bonus points. He has won seven of his last eight, including five matches against ranked opponents. He is 5-2 this year against ranked opponents, and 24-20 in his career against ranked foes. He has never faced Wisconsin's Hunter Ritter or Minnesota's Bobby Stevenson. Cash Wilcke defeated Ritter, 8-7, at the 2016 Duhawk Open finals.
 
CASH WILCKE, 197, R-FRESHMAN
Redshirt freshman Cash Wilcke is 11-7 overall with three straight losses to top 10 opponents, including an 8-7 tiebreak loss to No. 10 Matt McCutcheon. He defeated Wisconsin's Mason Reinhardt, 2-1, in a second tiebreak at the 2016 Duhawk Open semifinals. He has never faced Minnesota's No. 2 Brett Pfarr.
 
STEVEN HOLLOWAY, 285, R-FRESHMAN
Redshirt freshman Steven Holloway has stepped up a weight class for the injured Sam Stoll. Holloway is 6-6 overall. He earned his first Big Ten win Jan. 27, 6-1, over Ohio State's Josh Fox. He has never faced this weekend's opponents.
  
THE ATTENDANCE GAME
The Hawkeyes have averaged 11,565 fans in three home duals against Iowa State (Dec. 10), Penn State (Jan. 20), and Ohio State (10,338).
      Iowa led the nation in attendance for the 10th consecutive season in 2015-16, when it averaged an NCAA record 12,166 fans and set the single season dual attendance record when 42,287 fans watched No. 4 Iowa defeat top-ranked Oklahoma State, 18-16, at Kinnick Stadium. Throughout the season, Kinnick and Carver-Hawkeye Arena welcomed 97,325 wrestling fans for a dual meet.
      Iowa has averaged more than 8,000 fans in eight straight seasons. 
 
HAWKEYE WRESTLING HISTORY
Iowa's overall dual meet record is 982-228-31 (.799) in 107 seasons. The Hawkeyes have won 23 national titles and 35 Big Ten titles. Iowa's 53 NCAA Champions have won a total of 81 NCAA individual titles, crowning six three-time and 16 two-time champions. The Hawkeyes' 111 Big Ten champions have combined for 197 conference titles. There have been seven four-time, 18 three-time, and 29 two-time Big Ten champions from Iowa.
      Iowa's 154 All-Americans have earned All-America status 319 times, including 18 four-time, 36 three-time and 40 two-time honorees.