Hawkeye Fan Shop — A Black & Gold Store | 24 Hawkeyes to Watch 2016-17 | Hawk Talk Monthly — Feb. 2017 | Media Day Photo Gallery
By DARREN MILLER
hawkeyesports.com
IOWA CITY, Iowa — Kaitlyn "Chip" Mullarkey enjoyed a fantastic junior softball season in 2016, leading the University of Iowa in runs (38), doubles (11), triples (three), RBIs (31), and stolen bases (13). When the time came to focus on improvement, Mullarkey turned to…books.
 
Prior to Winter Break, the Hawkeyes split into groups and selected a book to read. Mullarkey chose Leading with the Heart by Duke men's basketball coach Mike Krzyzewski. But she didn't stop there. Soon, she was absorbing the content of Mind Gym: An Athlete's Guide to Inner Excellence, as well as three others.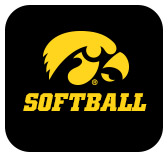 "I read a bunch of leadership books and got good information," Mullarkey said Thursday at the team's media day in the Hawkeye Tennis and Recreation Complex. "It's not just coach K's team, it's his family. He talked a lot about using we pronouns and not about himself. He includes every person in the organization in his team and I liked that."
 
A deeper-than-usual Hawkeye team will rely on senior leadership from Mullarkey, Claire Fritsch, Shayla Starkenburg, and Elizabeth Wiegand. Iowa's 2017 roster is an impressive blend of veterans and newcomers: there are 14 letterwinners, 10 starters (including the entire pitching staff), and eight newcomers.
 
"The leadership part is what I have been working on a lot, especially with getting the young kids more comfortable," Mullarkey said. "We need to set high standards for ourselves and hold ourselves accountable every day at practice and keep pushing, working hard, and getting better."
 
Mullarkey started 51 games last season and batted .286. Fritsch, a second baseman, was one of two Hawkeyes to play in all 52 games, starting 51 times. She batted .255 with five doubles and nine stolen bases.
 
Other prominent position-player returnees are juniors Angela Schmiederer (.254, 11 extra-base hits, 24 RBIs), Cheyenne Pratt (.259), and Allie Wood (.264 in 24 games), and sophomore Mallory Kilian (.258, eight extra-base hits).
 
Five pitchers are back, including primary starters Wiegand and Starkenburg. Wiegand (7-14) started 24 games and threw 140 innings; Starkenburg (4-15) started 17 games and threw 107 innings.
 
"We have more depth in every positon than we have ever had and we have multi-position athletes we can shift wherever we need to put them," Iowa head coach Marla Looper said. "That's the fun part; it makes writing the lineup a little easier in a sense because we have options. The challenge, as a coach, is figuring what those best options are."
 
Spot pitchers returning are junior Ashley Yoways (18 innings), sophomore Erin Riding (53 innings), and Kilian (13 innings). They are joined by freshmen Allison Doocy and Taylor MaKowsky.
 
"We have six pitchers who are different. You put any one of them on the mound and (opponents) are not sure what they will get because another one could follow up and look opposite," Looper said. "We have senior leadership and freshmen stepping up. It's exciting to have everyone from top to bottom be able to contribute."
 
Depth isn't the only area where the Hawkeyes improved. There will also be a noticeable increase in team speed. Iowa swiped 51 bases last season (19 fewer than opponents and an average of less than one per game), but Looper says the Hawkeyes will be able to "push the envelope" this season.
 
"We have speed potential that we have never had before in (freshmen) Alex Rath, Lea Thompson, and Havyn Monteer," Looper said. "Speed kills and we haven't had a lot of that. Now we can take extra bases and not have to give up a bat to do it."
 
Power is another area the Hawkeyes upgraded. Mullarkey (nine), Kilian (four), Schmiederer (three), and Wood (two) hit home runs last season and Looper said newcomers Devin Cantu and McKenzie Schneider add power potential.
 
"We are now able to score runs, our power output is a lot better," Looper said. "We constantly talk about quality at-bats and how you earn those. They have bought into the team concept and what it takes for the team to win, not what makes me good, it is what makes my team great."
 
Iowa (13-39 overall, 3-20 Big Ten in 2016) opens the season Feb. 10-12, playing five games at the CenturyLink Classic in San Marcos, Texas. The first competition at Pearl Field is the Hawkeye Invitational on March 18.
 
"Our schedule is definitely stronger than last year, but to be the best you have to play the best and start beating them," Looper said. "I would like to be at least in the top half of the Big Ten, which is not an easy task. We have to go out and give our best every day, put our best foot forward, and compete. We have a more aggressive mindset offensively, defensively, and in the circle. That sets us up for what should be a successful season."
 
You can put that in the book.