Hawkeye Fan Shop — A Black & Gold Store | 24 Hawkeyes to Watch 2016-17 | Hawk Talk Monthly — Feb. 2017
IOWA CITY, Iowa — There is no wrestling anonymity at the University of Iowa, and the third-ranked Hawkeyes lived the ups and downs of the national spotlight in January.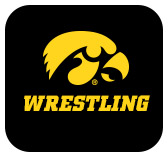 Five duals, 22 days, 33 ranked opponents. Some wins, some losses, all lessons learned and applied towards a national title hunt that begins March 16 in St. Louis.
 
Iowa opened the new year with consecutive road wins at Michigan and Michigan State. The Hawkeyes handled the 15th-ranked Wolverines, 31-6, on Jan. 6 and blanked the Spartans, 44-0, on Jan. 8.
 
One week later, things got more interesting. The Nos. 1, 2, and 4 teams in the country lined Iowa's schedule from Jan. 15-27. The Hawkeyes went one up and two down, first falling at top-ranked Oklahoma State on Jan. 15 in front of 7,809 fans, the Cowboys' largest home crowd since 2007.
 
On Jan. 20, No. 2 Penn State defeated the Hawkeyes on BTN in front of 14,311 fans at Carver-Hawkeye Arena.
 
One week later, Iowa was back on national television, this time getting the best of No. 4 Ohio State on BTN and in front of more than 10,000 Hawkeye fans. The win meant the end of 13-day stretch that included three of the nation's top four teams, and the beginning of self-reflection.
 
"We learned a lot," said UI head coach Tom Brands. "And we knew we were going to learn a lot. We knew that this was on our schedule and we had it circled. We're making progress and we will keep working."
 
Wrestling with the world's eyes on Iowa City is nothing new to a program that has produced 19 Olympians, and getting each opponent's best shot is not only expected, it's embraced.
 
"You need to understand that this is fun," said UI senior Sammy Brooks, who in a 13-day stretch wrestled fifth-ranked Nolan Boyd (Oklahoma State), top-ranked Bo Nickal (Penn State), and Ohio State's Myles Martin, a defending national champion. "Who else gets to wrestle the other top teams in the country within three weeks and clearly see what you're made of."
 
The 13-day stretch was a measuring stick, and for a team used to moving forward with wins, the 21-13 victory over the Buckeyes gives Iowa momentum heading into the final eight weeks of the season.
 
"You get a win against a good team like that, it's been a rough couple weeks, but it shows the perseverance in the system," said Brooks. "If we do what the coaches have set in place for us, good things will happen."
 
Iowa hosts No. 16 Wisconsin on Friday, Feb. 3 at Carver-Hawkeye Arena before wrestling at No. 13 Minnesota on Sunday, Feb. 5 on BTN. The following weekend includes a trip to Indiana on Feb. 10, and the home finale against No. 6 Nebraska on Feb. 12. The Hawkeyes will honor five seniors on Feb. 12. Thomas Gilman, Cory Clark, Topher Carton, Alex Meyer and Sammy Brooks wrestle for the final time at Carver-Hawkeye Arena.