Hawkeye Fan Shop — A Black & Gold Store | 24 Hawkeyes to Watch 2016-17 | Hawk Talk Monthly — Feb. 2017
Editor's Note: The following first appeared in the University of Iowa's Hawk Talk Daily, an e-newsletter that offers a daily look at the Iowa Hawkeyes, delivered free each morning to thousands of fans of the Hawkeyes worldwide. To receive daily news from the Iowa Hawkeyes, sign up HERE.
By CHRIS BREWER
hawkeyesports.com
IOWA CITY, Iowa — Zoe Douglas was raised more than 4,000 miles from the state of Iowa, but she knows a good rivalry when she sees one.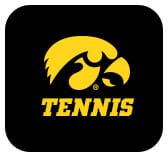 Douglas, a junior from Papworth Everard, England, is a fan of the Premier League's Arsenal, whose rivalry with Tottenham is one of the most heated in English football. Douglas's home team has long been the dominant club in North London, and she wants her home team in the United States to be the same.
 
"I prefer the winning side," Douglas said in advance of Sunday's Cy-Hawk Series match against Iowa State. "It's always a big deal when you play an in-state rival. They're going to come ready to fight. They'll give everything they have and they're going to push us to our limits. We'll have to come out and push ourselves and do everything we can to come out with a win."
 
The overall result of the 2016-17 Iowa Corn Cy-Hawk Series has been determined. The Hawkeyes lead 14-7 with three events to play — women's tennis, women's gymnastics, and softball. Each remaining event is worth two points, so Iowa has the series clinched. It's now up to the Hawkeyes to extend the gap.
 
"We did great this year against Iowa State in the fall and I want to be a part of that success," said sophomore Adorabol Huckleby. "This team is excited to play."
 
Huckleby was at Carver-Hawkeye Arena on Dec. 8 when her roommate Megan Gustafson and the Hawkeye women's basketball team defeated Iowa State, 88-76. She was in the stands for that one, and on Sunday she will jump into the head-to-head competition for the first time.
 
In fact, only two individuals inside the women's tennis program have ever played against Iowa State. Junior Anastasia Reimchen won in straight sets, 6-4, 6-2, when the teams last met in 2015, and UI head coach Sasha Schmid was a part of four winning efforts against the Cyclones from 1993-96.
 
"I remember it being a big deal then for the same reasons it's a big deal now," said Schmid. "It is so important to the state of Iowa that it's meaningful to our team, too."
 
It would be easy for some involved to view the match as just another opportunity against another opponent. There are no Iowa natives on the Hawkeyes' roster, and five of Iowa's 10 players are from outside the United States, but Douglas said it didn't take long to identify the must-wins once she arrived on campus.
 
"I've always understood rivalries, but everything in America is a bit more dramatic and exaggerated," Douglas said. "It is a big rivalry to get your head around. The whole college knows it's a big thing."
 
The Hawkeyes lead the all-time series 35-0 and will try to make it 36 straight Sunday at 2:30 p.m. (CT) at the Hawkeye Tennis and Recreation Complex. The match is the first of two on Sunday. The Hawkeyes host Montana at 6 p.m.
 
Schmid says the doubleheader may allow her to plug more players into the lineup, but her first priority is seeing her team taking another step forward against its next opponent.
 
"We learn a little bit more about ourselves each time out and that's my No. 1 goal," Schmid said. "We learn something, and to do that, we have to take care of all of the things that are in our control. We have to have good composure, focus, concentration, and stay engaged in the match. Our confidence is growing and this week is another great opportunity for us to make progress."