Hawkeye Fan Shop — A Black & Gold Store | 24 Hawkeyes to Watch 2016-17 | Hawk Talk Monthly — Feb. 2017
Editor's Note: The following first appeared in the University of Iowa's Hawk Talk Daily, an e-newsletter that offers a daily look at the Iowa Hawkeyes, delivered free each morning to thousands of fans of the Hawkeyes worldwide. To receive daily news from the Iowa Hawkeyes, sign up HERE.
By RICK BROWN
hawkeyesports.com
IOWA CITY, Iowa — The University of Iowa men's golf team opens the spring season Friday in the first round of the Big Ten Match Play Championship in Palm Coast, Florida.
 
UI head coach Tyler Stith will take six players to Florida, a mix of youth and experience.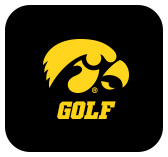 Competing for the Hawkeyes, vying for a ninth consecutive NCAA Regional bid, will be seniors Raymond Knoll and Carson Schaake, sophomore Matthew Walker, and freshmen Alex Schaake, Ryoto Furuya, and Alex Moorman.
 
"We have two seniors right now who are leaders, but Matthew's not too far behind," Stith said. "I think the freshmen are already looking up to him after the way he performed this fall. He has earned that role. He practices hard and stays late. He has already moved into a leadership role."
 
Walker, from Ottumwa, Iowa, finished in the top 10 in four of five events in the fall and had a 72.26 stroke average. He had nine rounds of par or better during the fall season.
 
Walker credits the team's two seniors for helping shape his game.
 
"Ray's like a brother to me," Walker said. "He has helped me from day one. I have a lot to thank him for. He taught me how to get around a college golf course, things to look for, how to pick it apart. I've learned a lot from watching him play."
 
Walker has also quizzed Schaake about his thought process on the way to winning Big Ten medalist honors in 2015.
 
"You take all those pieces and mold it into your own," Walker said.
 
Knoll, from Naperville, Illinois, had a team-best 72.06 stroke average in the fall with two top 10 finishes and five rounds at par or better. Knoll was named to the Division I PING All-Midwest Team last spring after averaging 72.11 strokes, posting four top 10 finishes and recording 10 rounds of par or better. He also tied for 22nd at the NCAA Regionals.
 
In addition to winning medalist honors at the Big Ten Championship in 2015, Schaake placed fourth in 2016 and tied for 11th at the NCAA Regionals in 2016. Schaake, from Omaha, Nebraska, had a 73.0 stroke average last spring.
 
His younger brother, Alex, rated the top recruit in the state of Nebraska and a two-time Nebraska Junior champion, and Furuya, from Alpharetta, Georgia, got valuable experience competing in several meets in the fall. Moorman, a two-time Iowa state champion from Centerville, transferred to Iowa after redshirting last season at Kansas.
 
Friday and Saturday will be the first time league schools have gotten together in competition since the 2016 Big Ten Championships in Newburgh, Indiana. The Hawkeyes took the team lead into the final round, shot a respectable 3-under 285 and got passed by Illinois. The Illini shot an astounding 24-under 264 the final day.
 
"We didn't lose," Walker said. "We got beat."
 
Illinois won the title by 13 shots. Iowa was 15 shots clear of third-place Maryland.
 
"That was the most dominant runner-up finish I have ever been a part of," Stith said. "We played outstanding that week. I believe it is one of the best performances in the history of our program. It's something I'll never forget."
Iowa had a trio of golfers finish in the Top 10 that week. In addition to Carson Schaake's fourth-place finish, Knoll was fifth, and Walker tied for sixth.  All three are back, and ready to hit the golf course running.
 
"We have some guys playing well right now," Walker said. "We're looking forward to getting back out there."