Hawkeye Fan Shop — A Black & Gold Store | 24 Hawkeyes to Watch 2016-17 | Hawk Talk Monthly — Feb. 2017 | Big Ten Championships Notes (PDF) | Live Results | Big Ten Championships Meet Central
Editor's Note: The following first appeared in the University of Iowa's Hawk Talk Daily, an e-newsletter that offers a daily look at the Iowa Hawkeyes, delivered free each morning to thousands of fans of the Hawkeyes worldwide. To receive daily news from the Iowa Hawkeyes, sign up HERE.
By JAMES ALLAN
hawkeyesports.com
WEST LAFAYETTE, Ind. — Each competition this season has been a steppingstone for the University of Iowa women's swimming and diving team. The Hawkeyes have arrived at their championship season.
 
Iowa begins action at the 2017 Big Ten Championships today at 5:30 p.m. (CT) at the Boilermaker Aquatics Center. Following two opening-day relays, the meet runs Thursday through Saturday with prelims at 10 a.m. and finals at 5:30 p.m.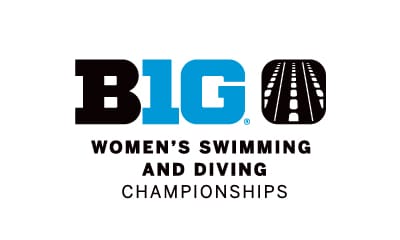 "We're in a good place," said UI head coach Marc Long. "We finished the season strong and we're excited to have this young group competing, led by some veterans."
 
The No. 1 veteran — senior Emma Sougstad — highlights a group of six Hawkeyes that rank in the top 16 in the Big Ten in nine different events.  The Forest City, Iowa, native has top-10 times in three events, ranking fourth in the 100 breast (59.51), sixth in 200 breast (2:11.84), and 10th in 200 IM (1:59.76).
 
"I am confident (heading into the championships) because we work hard every day," said Sougstad, who swam to five top-seven finishes at last season's Big Ten Championships. "We practice sometimes twice a day preparing for the big race. It's important to remember all you've done to prepare for the race."
 
Iowa's preparation has been geared toward the championship season since September.
 
"The expectation is this is the best performance of the year so far," said Long. "This team believes in each other and they have a quiet confidence. They're excited to move up in the conference.
 
"You want to be scoring points, which at this championship is placing in the top-24, but the big points are top eight, top 16."
 
Freshman Hannah Burvill is looking forward to her first Big Ten Championships. She has big meet experience in her native England, but she knows this week will be one of her stiffest tests.
 
"The competition is going to be big, but I am looking forward to stepping up and racing against people I haven't faced before," said Burvill, who has two top-seven times in the 100 free (49.22) and 200 free (1:46.29). "It should be fun.
 
"I am looking to get there and trust what we've been doing in training this past year. I am looking to get there and do the best I can."
 
Iowa's top returning place winner comes from the diving well where senior Calli Head was a bronze medalist off the platform last season.  Head has placed fourth, eighth, and third in her first three Big Ten Championships.
 
"I have gained a lot of confidence every year," said Head. "Going into (the meet) your first year you don't know what to expect, but every year it has gone well and I have gained confidence from that. Last year was exciting; I am looking to build on that."
 
Head says last year's performance shows she can compete against the best the conference has to offer. This year her focus is on qualifying for the platform final to give herself a shot at more.
 
"Once you're in finals, my coaches have always told me that anything can happen," said Head. "I am hoping that I get a solid enough list to get into the final and then do my best list I can from there."
 
Long's message to the Hawkeyes leading into the championship season is to trust themselves… and the process.
 
"You have to trust yourself, have a plan, be supportive, and use your support system," said Long. "We have been preparing (for this meet) in practice and with all the meet exposure we have had. This is a big meet, but they need to roll with the punches, step up, and give their best performances."
 
The first six sessions of the Big Ten Championships will be available on BTN Plus on BTN2Go.  Saturday's finals will be televised on BTN after the week following the meet.