Hawkeye Fan Shop — A Black & Gold Store | Hawk Talk Monthly — Feb. 2017 | 24 Hawkeyes to Watch: Sammy Brooks | Notebook PDF
 #3 IOWA at 2017 BIG TEN CHAMPIONSHIPS
| | |
| --- | --- |
|  DATE and TIME |  Saturday and Sunday, March 4-5 | All Day |
|  LOCATION     |  Bloomington, Indiana | Assembly Hall |
|  TELEVISION |  FINALS, Sunday at 2 p.m. on BTN |
|  VIDEO STREAM  |  BTN2GO.com |
|  LISTEN |  KXIC | Hawkeye All-Access |
|  LIVE RESULTS |  TrackWrestling |
ON THE MAT
The University of Iowa wrestling team competes at the 2017 Big Ten Championships on Saturday and Sunday at Assembly Hall in Bloomington, Indiana. The two-day event begins Saturday at 9 a.m. (CT). Session II starts Saturday at 5 p.m. Session III begins Sunday at 11 a.m., followed by the finals at 2 p.m. The finals will be televised by BTN.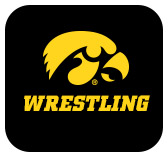 BIG TEN CHAMPIONSHIPS RESULTS
Brackets and team standings will be available throughout the tournament at bigten.org and hawkeyesports.com.
 
9 HAWKEYES EARN PRE-SEEDS
Senior Thomas Gilman is listed as the top 125-pounder in the Big Ten Conference pre-seeds released Monday by the league office. Gilman is 24-0 this season, including an 8-0 mark against the tournament field, and has scored bonus points in 21 of his 24 matches. It is the second time in his career he entered the tournament as the top seed. He was No. 1 in 2015 when he placed runner-up to Ohio State's Nathan Tomasello.
    Senior Cory Clark is the No. 3 seed at 133. Clark is 12-2 this season and the defending conference champion at 133. He was seeded No. 2 last year when he defeated three consecutive top 10 opponents to win the Big Ten title.
    Three Hawkeyes are seeded No. 2, including junior Brandon Sorensen at 149, redshirt freshman Michael Kemerer at 157, and defending champion Sammy Brooks at 184.
    Sorensen is a two-time Big Ten runner-up. He is seeded behind defending Big Ten and NCAA champion Zain Retherford of Penn State. Sorensen lost to Retherford, 9-8, in the second tiebreak in the pair's only meeting this season.
    Kemerer is seeded No. 2 behind Penn State's Jason Nolf. Kemerer is 25-1 overall and 9-1 against the tournament field. His only loss of the season was a 9-4 decision to Nolf on Jan. 20.
    Brooks is the No. 2 seed for the first time in his career. He was the top seed and placed third as a sophomore in 2015, and won the championship as the No. 3 seed in 2016.
    Senior Alex Meyer is the No. 5 seed at 174. Meyer is 20-5 overall and 7-3 against the field.
    Three more Hawkeyes received seeds prior to their Big Ten Conference tournament debuts. Senior Topher Carton is the No. 6 seed at 141, redshirt freshman Joey Gunther is seeded fifth at 165, and redshirt freshman Cash Wilcke is the No. 7 seed at 197.  The Hawkeyes are unseeded at 285, where redshirt freshman Steven Holloway is making his tournament debut.
 
WRESTLER OF THE CHAMPIONSHIP
Since 1989, the year the Big Ten record book first recognizes the award, eight different Hawkeyes have been named Wrestler of the Big Ten Championships. Head coach Tom Brands won the award in 1989 following his 126-pound conference title. Associate head coach Terry Brands won the honor following his 126-pound Big Ten title in 1992. Brent Metcalf was the last Hawkeye to earn the award. He is the only Big Ten athlete to win the award twice (2008, 2009).
 
BIG TEN TOURNAMENT CHAMPIONS
The Hawkeyes' 111 Big Ten champions have won a total of 197 conference titles. There have been seven four-time, 18 three-time, and 29 two-time winners. The Hawkeyes have won 35 team titles, twice as many as the next closest school (Illinois, 17). Iowa won 25 consecutive conference championships from 1974-1998.
AUTOMATIC QUALIFIERS
The Big Ten Championships is one of eight qualifying tournaments across the country.     The NCAA has awarded the conference 77 of the 281 automatic qualifying bids for the national championship in St. Louis on March 16-18. The Big Ten was allotted more bids than any other conference. The league will have five automatic qualifiers at 285, six at 149, seven at 125, 165, and 197, and nine at 133, 141, 157, 174, and 184. 
 
IN THE COACHES' EYE, RPI
Senior Thomas Gilman and redshirt freshman Michael Kemerer are ranked at the top of their class in the NCAA RPI rankings released Feb. 23 by the NCAA.
Gillman, the top wrestler at 125 pounds, is also ranked atop the coaches' rankings. Kemerer is ranked No. 2 in the coaches' rankings at 157. Two more Hawkeyes are in the RPI top five. Sammy Brooks is No. 2 at 184 and Brandon Sorensen is No. 3 at 149. Brooks and Sorensen are both ranked third in the coaches' rankings. Cory Clark, who fell short of the minimum 17 matches to qualify for the RPI rankings, is ranked fifth by the coaches at 133. Topher Carton (15th/141), Joey Gunther (16th/165) and Alex Meyer (10th/174) were also in the coaches' top 20.
    The NCAA uses RPI and coaches' rankings when determining how many automatic qualifiers from each conference tournament advance to the 2017 NCAA Wrestling Championships in St. Louis on March 16-18.
After all of the qualifying events have concluded, the NCAA Division I Wrestling Committee will meet in-person to select the remaining 49 at-large qualifiers, which will be announced on March 7. All weight classes will consist of 33 wrestlers.
    The at-large selections will be made based on the following criteria: head-to-head competition; quality wins; coaches' ranking; results against common opponents; RPI; qualifying event placement; and winning percentage.
 
ALL-AMERICAN DOMINANCE
Iowa's five returning All-Americans — Thomas Gilman (125), Cory Clark (133), Brandon Sorensen (149), Alex Meyer (174), and Sammy Brooks (184)  — are a combined 99-12 with 72 wins by bonus points.
 
DEFENDING CHAMPIONS
Seniors Cory Clark and Sammy Brooks will defend their 2016 Big Ten titles Saturday and Sunday. Clark defeated three top 10 opponents to win the 133-pound title (#9 Johnny DiJulius, #10 Ryan Taylor, #2 Zane Richards). Brooks was 4-0 with a pin and three decisions, including a 6-4 win in the finals against T.J. Dudley.              The last Hawkeye to win back-to-back conference titles was Matt McDonough, who won the 125-pound championship in 2011 and 2012.
 
TOURNAMENT EXPERIENCE
The Hawkeyes have five seniors in their lineup who have a combined eight Big Ten Championships appearances. Senior Cory Clark is competing at the conference tournament for the fourth time. He placed fourth at 125 in 2014, third at 133 in 2015, and won the 133-pound title in 2016. Sammy Brooks won the 184-pound title in 2016 and placed third in 2015. Thomas Gilman is competing in the 125-pound bracket for the third time, having placed second in 2015 and third in 2016. Alex Meyer placed fifth at 174 in 2016, his only previous tournament appearance.
Senior Topher Carton (141) is making his first career Big Ten Championships appearance.  He is one of five Hawkeyes making their tournament debuts. The others include redshirt freshman Michael Kemerer (157), Joey Gunther (174), Cash Wilcke (197), and Steven Holloway (285). The 10th man in the Iowa lineup in junior Brandon Sorensen, who was the Big Ten runner-up at 149 pounds in 2014 and 2015.
UNDEFEATED HAWKEYE
Senior Thomas Gilman enters the Big Ten Championships with a 24-0 record.  Gilman has opened his senior season with a career-high 24 straight wins. In the history of Iowa wrestling, 15 wrestlers have finished the season with a perfect record (minimum 20 matches). Four of those wrestlers were able to perform the feat twice. They include Mark Ironside, Lincoln McIlravy, T.J. Williams and Jim Zalesky. Iowa coaches Tom Brands and Terry Brands are among the 15 wrestlers. Tom went 45-0 in 1990-91 and Terry went 35-0 in 1991-92.
 
THOMAS GILMAN, 125, SENIOR
Senior Thomas Gilman, the nation's top-ranked 125-pounder, is 24-0 and has scored bonus points in 21 matches. He has won a career-high 24 straight to open the season. Gilman has set a career high with seven technical falls and leads the team with nine pins. Gilman is making his third Big Ten tournament appearance, having placed second in 2015 and third in 2016. He is 6-2 all-time at the Big Ten Championships.
 
CORY CLARK, 133, SENIOR
Senior Cory Clark is 12-2 overall with four pins and two technical falls. Clark is making his fourth Big Ten tournament appearance. He placed fourth at 125 in 2014, third at 133 in 2015, and won the 133-pound title in 2016. He is 9-3 all-time in the tournament. Clark is 1-2 this year against top-10 opponents, and 33-15 in his career against ranked opponents.
 
TOPHER CARTON, 141, SENIOR
Senior Topher Carton is making his first postseason appearance. Carton climbed to No. 13 in the national rankings following his 6-4 win over No. 10 Colton McCrystal of Nebraska. He is 21-6 with a career-high six major decisions and a career-high five pins. All six of his losses have been to ranked opponents, three by one-point decision.
 
BRANDON SORENSEN, 149, JUNIOR
Junior Brandon Sorensen, ranked No. 4 nationally at 149, is 22-3 with a team- and career-high 10 major decisions. He has scored bonus points in 17-of-22 wins. Sorensen has placed runner-up at each of the last two Big Ten Championships. He is 5-2 all-time in the tournament.
  
MICHAEL KEMERER, 157, R-FRESHMAN
Redshirt freshman Michael Kemerer, ranked No. 2 at 157, is 25-1 with 16 wins by bonus points and five wins over ranked opponents, including four in the top 10. Six of his last 11 matches have been against top-10 opponents (5-1). He opened the season at 19-0, becoming the first Hawkeye redshirt freshman to win his first 19 matches since Matt McDonough won 32 in a row to start the 2009-10 season.
 
JOEY GUNTHER, 165, R-FRESHMAN
Redshirt freshman Joey Gunther is 17-6 overall and ranked as high as No. 15 in the national rankings. He entered the rankings Feb. 6 for the first time in his career after earning his first win against a ranked opponent at Minnesota on Feb. 5, defeating No. 15 Nick Wanzek, 5-2. Among his six losses, three are to top-five opponents.
 
ALEX MEYER, 174, SENIOR
Senior Alex Meyer is 20-5 with a career-best seven major decisions. He has four technical falls, tying Michael Kemerer and Sammy Brooks for second on the team.  Meyer is appearing in his second Big Ten Championships. He placed fifth at 174 in 2016, splitting four matches against top 20 opponents.
 
SAMMY BROOKS, 184, SENIOR
Senior Sammy Brooks is the defending 184-pound Big Ten champion. He placed third at 184 pounds in 2015, dropping an opening round overtime decision. He has since won eight straight matches in the tournament. Brooks is 21-2 overall with 16 wins by bonus points. He has won 11 of his last 12, including six matches against ranked opponents. He is 6-2 this year against ranked opponents, and 25-20 in his career against ranked foes.
 
CASH WILCKE, 197, R-FRESHMAN
Redshirt freshman Cash Wilcke is 14-8 overall with three losses to top 10 opponents, including an 8-7 tiebreak loss to No. 10 Matt McCutcheon.
 
STEVEN HOLLOWAY, 285, R-FRESHMAN
Redshirt freshman Steven Holloway has stepped up a weight class for the injured Sam Stoll. Holloway is 6-10 overall. He earned his lone Big Ten win Jan. 27, 6-1, over Ohio State's Josh Fox.