Hawkeye Fan Shop — A Black & Gold Store | 24 Hawkeyes to Watch 2016-17 | Hawk Talk Monthly — Feb. 2017 | Hawkeyes in the NBA | Fran McCaffery Transcript (PDF)
By DARREN MILLER
hawkeyesports.com
IOWA CITY, Iowa — So far this season, the sequel has been a blockbuster compared to the prelude for the University of Iowa men's basketball team. The Hawkeyes look to continue that trend Saturday against Illinois.
 
Iowa (14-12 overall, 6-7 Big Ten) faces the Illini (14-12, 4-9) on Saturday on Mediacom Court inside Carver-Hawkeye Arena with a 1:06 p.m. (CT) tip. It marks the fourth time this season that Iowa will play a team a second time and the Hawkeyes are undefeated in rematches against Purdue, Rutgers, and Nebraska.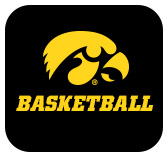 Iowa lost 76-64 at Illinois on Jan. 25, then rattled off three consecutive victories. A quick start would go a long way in erasing the memory of the setback in Champaign when the Hawkeyes were down 10-0 less than three minutes into the game.
 
It is understandable what sticks out to the Hawkeyes from the first showdown with Illinois.
 
"Our late start," said freshman forward Cordell Pemsl.
 
"We got off to a bad start and then we were battling back the whole way," said sophomore forward Nicholas Baer.
 
Iowa has had a week off following road losses to Minnesota (Wednesday) and Michigan State (Saturday). Head coach Fran McCaffery said the team has worked on "pretty much everything" in the last few days, including transition offense, defense, and rebounding. McCaffery pointed to positives in the first meeting against the Illini.
 
"The funny thing about that game is we got the ball to the rim early multiple times and we just didn't get it in," McCaffery said. "I would be more concerned if we were jacking quick, early 3s and they were horrible shots, and giving up transition baskets because of poor shot selection and poor decision-making. We had it right to the front of the rim in that game. It should not have been 10-0, but it was, so you've got to deal with it."
 
Baer recognized grit, even after the slow start Jan. 25.
 
"We did show resolve and continued to fight," he said. "We got it down to what could have been a six-point game in the last few minutes, but overall we have grown a lot since then, defensively in particular. We need to do a better job keying in to the scouting report than we did last time."
 
Illinois was clinging to a 66-57 lead with 3:14 left when Iowa freshman Jordan Bohannon — who was ill and questionable to play — missed a 3-point attempt. He was 1-of-9 in that game, but Bohannon bounced back in the next four outings to shoot 51.4 percent from the field and 51.7 percent from 3-point range. The Hawkeyes won three of those games and dropped a heartbreaker in overtime on the road.
 
But then came a 77-66 loss at Michigan State on Feb. 11. Bohannon was 0-for-8 from the field (he attempted six 3-pointers) and was held without a point in 18 minutes.
 
"I have to have a short memory and remember what got me here and that is my shooting ability," Bohannon said. "I can't lose confidence in that. After one of those games you have to realize how far you have come and where you want to go in the process."
 
Saturday's game will be televised on BTN. Fans are encouraged to wear white; Hawkeye players will wear white pregame shirts with Arnold and the number 30 on the back of the shirts to show support for former Hawkeye Kenny Arnold (1979-82). The 57-year-old Arnold is dealing with aftereffects of a brain tumor diagnosed more than 30 years ago that robbed him of his ability to speak.