Hawkeye Fan Shop — A Black & Gold Store | 24 Hawkeyes to Watch 2016-17 | Hawk Talk Monthly — Feb. 2017 | Complete Results (PDF)
WEST LAFAYETTE, Ind. — The University of Iowa women's swimming and diving team closed out the 2017 Big Ten Championships with its fourth school record during Saturday's finals session at the Boilermaker Aquatics Center.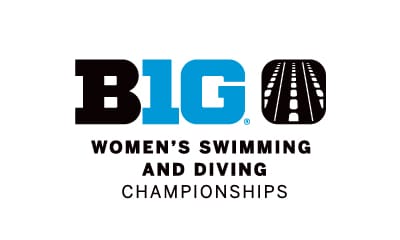 The 400-freestyle relay consisting of freshman Hannah Burvill, senior Emma Sougstad, freshman Allyssa Fluitt, and senior Serena Wanasek finished with a school-record time of 3:18.83 to finish ninth overall.  The previous record of 3:20.58 was set in 2015.
 
The Hawkeyes also got a pair of seventh-place individual finishes. Sougstad finished with a time of 2:11.09 to place seventh in the 200 breast.  It came following a record-breaking performance in Saturday's prelims when she swam a 2:10.62.
 
Senior Calli Head placed seventh on the platform with an NCAA Zone Diving qualifying mark of 292.20.  Freshman Thelma Strandberg also scored, placing 21st with 215.90 points.
 
Junior Shea Hoyt also scored in the 200 breast, finishing second in the "C" final and 18th overall with an NCAA "B" qualifying time of 2:13.80.
 
Wanasek was Iowa's Big Ten Sportsmanship recipient.  The distinction is presented to student-athletes who display sportsmanship and ethical behavior, are in good academic standing, and demonstrate good citizenship outside of athletics.
 
The Hawkeyes finished 11th in the team standings with 357 points.  Michigan claimed the team title with 1,287 points, while Indiana (1,125) and Wisconsin (1,101.5) were second and third, respectively.
 
Iowa's divers will be back in action March 6, competing at the NCAA Zone D Diving Championships in Columbia, Missouri.  The UI men's team will compete at the Big Ten Championships next week in Columbus, Ohio.