Hawkeye Fan Shop — A Black & Gold Store | 24 Hawkeyes to Watch 2016-17 | Hawk Talk Monthly — Feb. 2017 | 2016-17 Women's Basketball Media Guide | Hawk Talk with Lisa Bluder
By DARREN MILLER
hawkeyesports.com
IOWA CITY, Iowa — Lisa Bluder borrowed a page from Bill Veeck, the late owner of the Chicago White Sox, in the days following Sunday's 20-point loss at Purdue.
 
On July 12, 1979, Veeck hosted Disco Demolition Night in Comiskey Park; Bluder held DVD Demolition Day in the women's basketball locker room.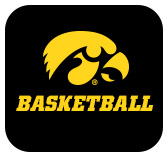 "It was probably dangerous looking back on it," Bluder said Tuesday during a teleconference. "I had (junior) Chase (Coley) break (the game tape), and little pieces of DVD went flying all over the place. It flew all over the locker room; it probably wasn't the smartest thing I have ever done, but I didn't think about getting the old science goggles out beforehand."
 
And thus ended further conversation about a 72-52 loss to the Boilermakers in a game where Iowa shot 15.6 percent from the field over the final 20 minutes and squandered a 10-point halftime lead.
 
"We haven't played that poorly since the second half at Penn State (on Jan. 3) and that has been a long time," Bluder said. "I told the team it is going to be a long time before we play that poorly again. It is an anomaly and we're going to move on and focus on getting two wins this week."
 
The Hawkeyes (16-11 overall, 7-7 Big Ten) wrap up the final week of the regular season at Indiana (18-9, 8-6) on Wednesday and at home against Wisconsin (7-20, 2-12) on Sunday.
 
Perhaps the best news for Iowa is the possible return of freshman Bre Cera from a concussion. Cera has started 14 times this season, but missed games against Northwestern and Purdue.
 
"I know she can contribute defensive intensity," Bluder said. "We missed that at Purdue, just that extra body. At the end we looked like we were tired with people playing a lot more minutes than they are used to playing."
 
Cera logged 22 minutes against Michigan State and 29 at Ohio State before the injury. Not only can Cera guard a variety of positions, but she is also adept at rebounding. During her two-game absence, the Hawkeyes out-rebounded Northwestern by 14, but were out-rebounded by Purdue by 24.
 
Iowa begins the final week tied for eighth in the Big Ten with Northwestern at 7-7. Penn State, Michigan State, Purdue, and the Hoosiers are 8-6.
 
"It is such a logjam in the middle and this is what happens when you have these big conferences and you don't play everybody twice," Bluder said. "There is no solution to it that I can see.
 
"Indiana is ahead of us in the standings so it is a very important game. It will be their senior night, so you always have that added emotion."
 
The Hoosiers are coming off a 67-64 loss at Nebraska on Feb. 19.
 
Iowa sits 47th in the nation in RPI — fourth-best in the Big Ten. But Bluder would trade RPI for W's.
 
"You can't just play, you have to win," she said. "Michigan State and James Madison were great wins. We have done everything we have needed to do at home during the conference season (6-1 record). We're not a shoo-in (for the NCAA Tournament), we're not a shoo-out, but beating Indiana sure helps our cause."
 
Iowa and Indiana tip off Wednesday at 6 p.m. (CT) from Assembly Hall in Bloomington, Indiana. The Hawkeyes lead the all-time series, 48-17.