Hawkeye Fan Shop — A Black & Gold Store | 24 Hawkeyes to Watch 2016-17 | Hawk Talk Monthly — Feb. 2017 | Final Results
PORT ST. LUCIE, Florida — The University of Iowa women's golf team concluded action at the Central District Invitational on Tuesday, tying for 12th in the 14-team field. The Hawkeyes posted a final round 311 (+23) for a three-round total of 943 (+79).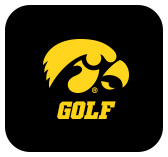 Furman (E; 864) took first place, followed by Memphis in second (+23; 887) and Louisville in third (+26; 890).
 
"This certainly was not the start we were hoping for, but I believe in this team and their desire to be good," said UI head coach Megan Menzel. " We learned a lot and we will have to be tough, since we take off again this weekend to compete."
 
Senior Jessie Sindlinger and junior Jessica Ip had the best finish for the Hawkeyes, tying for 40th with a three-round 234 (+18). Sindlinger carded a final-round 79 (+7), while Ip fired a 77 (+5). Sindlinger made par-or-below on 37 holes over the course of the tournament, including 12 holes in the third round. Ip sunk birdies on holes eight, 12, and 14 in the final round for a total of eight birdies over the tournament, while also making par on 26 holes.
 
Freshman Sophie Liu posted the second-best finish for Iowa, carding a 79 (+7) in the final round for a three-round total to 326 (+20). She posted 35 holes at or below par over the course of the tournament to tie for 47th place.
 
Sophomore Shawn Rennegarbe posted a 76 (+4) on the final day. She registered par on 12 holes and birdies on holes 10 and 16. Rennegarbe carded a three-round 239 (+23), posting rounds of 80,83 and 76 to end the tournament tied for 56th.
 
Rounding out the Hawkeye squad is Morgan Kukla. The junior carded a third-round 80 (+8) and finished 74th with a three-round total of 252 (+36).
 
Junior Elisa Suarez competed as an individual, carding a final round 81 (+9). She placed 69th with a three-round 244 (+28).
 
The Hawkeyes return to action at the Westbrook Spring Invitational in Peoria, Arizona, on Feb 26-27.