Hawkeye Fan Shop — A Black & Gold Store | 24 Hawkeyes to Watch 2016-17 | Hawk Talk Monthly — Feb. 2017 | Day 1 Results
PORT ST. LUCIE, Florida — The University of Iowa women's golf team sits in 13th-place following the first 36-holes at the Central District Invitational on Monday. The Hawkeyes posted scores of 305 and 327 on the first 36-holes of the St. Lucie Trail Golf Course for a total of 632 (+56).
Furman leads the field (-5; 571), while Louisville sits in second (+9; 585).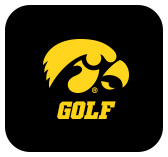 Senior Jessie Sindlinger led the Hawkeyes with a two-round total of 155 (+11; 73, 82). She is tied for 37th heading in the final round. Sindlinger's two rounds were highlighted by 24 holes at or below par, including five birdies on holes three, four, eight, 11, and 17.
Junior Jessica Ip and freshman Sophie Liu ended the second round with a total of 157 (+13). The pair is tied for 43rd. Both Ip and Liu posted rounds of 76 (+4) and 81 (+9). Ip registered 17 holes at par and five birdies on holes two, four, eight, 10, and 15. Liu recorded 20 holes at par and birdied holes seven, 16, and 18.
Rounding out the lineup were sophomore Shawn Rennegarbe and junior Morgan Kukla. Rennegarbe sits tied for 62nd after carding a two-round total of 163 (+19). She posted rounds of 80 (+8) and 83 (+11) with 19 holes at or below par. Kukla finished the second round in 75th place with a total of 172 (+28), carding rounds of 88 (+16) and 84 (+12).
Junior Elisa Suarez competed in the tournament as an individual. She finished the second round with a total of 163 (+19), registering rounds of 83 (+11) and 80 (+8). The junior is tied with Rennegarbe for 62nd. Her rounds were highlighted by 19 holes at or below par.
The final round of the Central District Invitational begins tomorrow with a tee time of 7:30 a.m. (CT). Live scoring will be available on BirdieFire.com.