Hawkeye Fan Shop — A Black & Gold Store | 24 Hawkeyes to Watch 2016-17 | Hawk Talk Monthly — Feb. 2017
IOWA CITY, Iowa – The University of Iowa women's gymnastics team moved up five spots over the weekend to rank No. 17 nationally in the Road to Nationals polls with a regional qualifying score (RQS) of 195.950. This week marks the first time this season that rankings have been determined by RQS.
 
Regional Qualifying Scores are based a team's six best regular-season-meet scores, three of which must be from away meets. To obtain the RQS, the highest score is eliminated and the remaining five scores are averaged.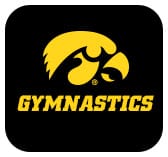 Iowa RQS
1. 196.475 (H)
2. 196.400 (A)
3. 196.175 (A)
4. 195.975 (H)
5. 195.725 (A)
6. 195.475 (H)
RQS: 195.950
 
"We are very pleased with the rankings that came out after the RQS was implemented," said UI head coach Larissa Libby. "To be ranked 17th in the country at this point is a huge accomplishment, and I am so proud of the efforts and level of dedication from my staff and team to make this season one of our very best."
 
The Hawkeyes competed in two events last weekend. On Friday, the squad took first in a field of five teams at George Washington with a score of 196.400, their second highest score this season. Senior Mollie Drenth won the all-around with a score of 39.300 and recorded a career-high 9.950 on beam to capture the event title, while freshman Charlotte Sullivan finished at the top of the podium on uneven bars with a score of 9.900. Iowa finished third at LSU on Sunday with a score of 194.200. Drenth tied for the all-around runner-up title with a total of 39.175.
 
The Hawkeyes also rank in the top 25 in all four events. Iowa ranks 15th on bars (49.050 RQS), 16th on floor (49.035), 18th on beam (49.101), and 21st on vault (48.901).
 
The GymHawks return to action on Friday against BYU in Provo, Utah at 8 p.m. (CT).