Hawkeye Fan Shop — A Black & Gold Store | 24 Hawkeyes to Watch 2016-17 | Hawk Talk Monthly — March 2017
Editor's Note: The following first appeared in the University of Iowa's Hawk Talk Daily, an e-newsletter that offers a daily look at the Iowa Hawkeyes, delivered free each morning to thousands of fans of the Hawkeyes worldwide. To receive daily news from the Iowa Hawkeyes, sign up HERE.
By JAMES ALLAN
hawkeyesports.com
IOWA CITY, Iowa — Mitchell Boe trusted the process.
 
During the first six weeks of the 2017 season, Boe was snake-bitten. He was giving the University of Iowa baseball team quality at-bats, but results didn't follow.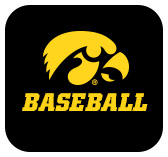 Boe was peppering line drives all over the field, but they weren't finding holes. He was hitting .194 with 13 runs and nine RBIs through 23 games. 
 
"It is difficult when it keeps happening over time," said Boe, a sophomore infielder from Naperville, Illinois. "It gets frustrating.  As we looked at it, coach (Rick) Heller and (assistant coach) Marty (Sutherland) always tell us that it is not about the results. It's the process and doing things the right way.
 
"This weekend, they started falling a little bit more. That was nice to see."
 
In the series opener against UNLV, Boe finished 1-for-2 with his first career triple in a 3-0 victory.  Boe followed with one of his most memorable days as a Hawkeye, helping lead the team to a pair of late-inning rallies in a doubleheader sweep.
 
In the first game of the April 1 twin bill, Boe finished 2-for-4 with two doubles, two runs, and two RBIs.  He stepped to the plate with runners on first and second base with two outs in the bottom of the ninth inning and the Hawkeyes trailing, 5-3.
 
"When I was down in the third base box, if you are going to preach the results don't matter as long as you give quality at-bats, you don't pinch-hit for Mitch Boe," said Heller. "That's what I said to myself.  He's in the top four or five in quality at-bats on our team, and that's what we needed."
 
Boe gave the Hawkeyes a quality at-bat and then some.  He laced a 1-2 pitch down the right field line for a double to tie the game at five.  Chris Whelan followed with an RBI single, scoring Boe to give Iowa a walk-off victory.
 
"It was an amazing feeling," said Boe. "When you look into the dugout and see all your teammates.  I wanted to put the team in a better situation, and that's what I did."
 
He wasn't done.
 
In the nightcap, Iowa trailed 6-4 heading into the bottom of the eighth when Boe was in the middle of another late-inning rally. With runners on second and third, Boe ripped an opposite field, two-run double down the left field line to tie the game at six.  He scored the go-ahead (and eventual game-winning) run on Mason McCoy grounder.
 
"I loved the pressure," said Boe, who had a career-high three RBIs in the series finale. "I have never been in a big situation like that. Those are two of the biggest hits I have ever had.  I stayed calmed, relaxed, and let my training take over. I trained the whole offseason for moments like that."
 
Boe didn't reinvent the wheel, he stuck with the process.
 
"He had some amazing at-bats, not too different from the ones he had when he was struggling," said Heller. "When he's upbeat, he brings a lot of energy to our lineup. We love having Mitch in the lineup when he's going well, or not going well, because he has a hop in his step.
 
"That's the lesson. You can't lose that no matter the situation.  You have to keep plugging away and control yourself."
 
Iowa has won eight of its last nine games, including a season-best six straight heading into Tuesday's game against South Dakota State. First pitch is 4:05 p.m. (CT) from Duane Banks Field.
 
"We're playing good baseball, but it's about taking it one game at a time," said Boe. "We can't get caught up in what's going on around us. We have to focus on each pitch and each inning and keep playing winning baseball."
 
And, the Hawkeyes need to continue to trust the process.