Hawkeye Fan Shop — A Black & Gold Store | 24 Hawkeyes to Watch 2016-17 | 2017 Football Season Tickets | KinnickEdge.org | Hawk Talk Monthly — April 2017 | A VIDEO — A Look Toward the 2017 Season | Signing Day Central
Editor's Note: The following first appeared in the University of Iowa's Hawk Talk Daily, an e-newsletter that offers a daily look at the Iowa Hawkeyes, delivered free each morning to thousands of fans of the Hawkeyes worldwide. To receive daily news from the Iowa Hawkeyes, sign up HERE.
By RICK BROWN
hawkeyesports.com
 
IOWA CITY, Iowa —  George Kittle was on the sidelines at Kinnick Stadium on Friday night, taking in the University of Iowa's spring football game with more than casual interest.
 
Kittle is expected to join a long line of Hawkeye tight ends to make it to the NFL.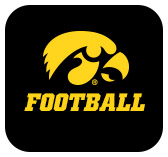 On Friday, he was wearing a T-shirt with Dallas Clark's picture on it. Clark is also part of that tight end legacy at Iowa, playing 11 NFL seasons, earning All-Pro status, and winning a Super Bowl ring.
 
Time will tell if sophomore Noah Fant adds his name to a list of Hawkeye tight ends turned NFL players. Names like Henry Krieger Coble, C.J. Fiedorowicz, Tony Moeaki, Brandon Myers, Scott Chandler, Tony Jackson, Erik Jensen, and Clark.
 
The 2017 NFL Draft runs Thursday through Saturday, and Kittle is expected to hear his name called. He caught 22 passes for 314 yards and four touchdowns last season, even though injuries limited him to 11 games.
 
Fant will be paying close attention to that draft to see if his mentor gets picked.
 
"Even when I was being recruited, I came to games and saw what he did," said Fant, a 6-foot 5-inch, 232-pounder from Omaha, Neb. "I knew, coming in, that I was going to learn as much as I could from him. He's going to be in the NFL. That's a pretty cool thing in itself. He was a great mentor as a senior going out as I was a young freshman coming in."
 
Fant saw action in 10 games as a true freshman last season, with nine catches for 70 yards and a touchdown. He said adjusting to the blocking schemes was his biggest challenge.
 
"At first it puts you on overload a little bit, because we have a lot of responsibilities," Fant said. "But once we get rolling and get to knowing the offense, it becomes second nature."
 
Iowa head coach Kirk Ferentz says Fant has talent and a good attitude, attributes shared by all those NFL tight ends who came before him.
 
"He's a first-year player, so every snap he takes is a learning experience, and it's beneficial to him," Ferentz said. "He has a good skill set. He works hard and did some good things last year, and he has practiced well for 15 practices (in the spring), and I can foresee that position on our team being critical to our success. We're young at that position, so hopefully he'll keep pushing for it."
 
There were 11 receptions by tight ends in Friday's spring game. Five different tight ends — Fant, T.J. Hockenson, Shaun Beyer, Jon Wisnieski, and Drew Cook — caught at least one pass. Wisnieski is a senior. Fant and Cook, who moved from quarterback to tight end last week, are sophomores. Hockenson and Beyer are redshirt freshmen.
 
"We loved it," Fant said. "It's always great to get that many receptions. It was spread out, too. We got to see what everybody could do."
 
Add senior Peter Pekar and sophomores Nate Wieting and Nate Vejvoda to the mix, and the competition to get on the field will be intense during fall camp in August.
 
"We're embracing the competition fully in our room," Fant said. "Everyone wants to get on the field, and we know we have to compete for it. We're looking forward to it."
 
In a normal situation, Fant would feel like his season of experience would give him a leg up on the competition heading into 2017. But a change in offensive coordinators, from Greg Davis to Brian Ferentz, puts everyone at the same spot on the learning curve.
 
"Everybody started learning at the same time, and we're all coming along together," Fant said. "I feel like we've all gotten better from last year."