Hawkeye Fan Shop — A Black & Gold Store | 24 Hawkeyes to Watch 2016-17 | Hawk Talk Monthly — April | B1G Tournament Bracket (PDF) | Week 16 Notes
THIS WEEK FOR THE HAWKEYES
The University of Iowa women's tennis team kicks off the Big Ten Tournament this week. The No. 7 Hawkeyes face 10th seeded Indiana Thursday at 2 p.m. (CT) in Champaign, Illinois. The Tournament runs from Thursday to Sunday at the Atkins Tennis Center. Matches will be streamed live on FightingIllini.com.  
B1G TOURNAMENT FIELD
The tournament is made up of the top 10 teams in the conference. Iowa is joined by top-seeded Ohio State, No. 2 Michigan, No. 3 Northwestern, No. 4 Illinois, No. 5 Maryland, No. 6 Michigan State, No. 8 Minnesota, No. 9 Nebraska, and No. 10 Indiana.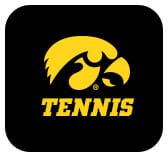 B1G TOURNAMENT INFORMATION
Minnesota and Nebraska play in the first match of the tournament on Thursday at 10 a.m. (CT), Ohio State awaits the winner of that match. Iowa takes on Indiana in the second match of the tournament. The winner of the match will face No. 2 Michigan. The quarterfinals begin Friday at 10 a.m. (CT) and conclude with the Northwestern/Michigan State match. The semifinals will take place on Saturday starting at 10 a.m. (CT), and the Big Ten Tournament championship match will be played at noon (CT) on Sunday.    
TAKING ON THE HOOSIERS   
The Hoosiers enter the week as the No. 10 seed in the tournament. They finished the regular season with a 13-13 (4-7) record. Indiana's four conference wins came against Rutgers (5-2), Purdue (4-3), Wisconsin (6-1), and Penn State (6-1). Iowa defeated Indiana earlier this season, 6-1, in Iowa City. The last time the Hawkeyes and the Hoosiers faced each other in the B1G Tournament was in 2010. Iowa won the match, 4-1.
HAWKEYES IN THE B1G TOURNAMENT
Dating back to when the Big Ten Tournament began in 1982, the Hawkeyes have made the tournament 33 times. Iowa is back in the tournament after a two -year absence. In 2014, the Hawkeyes advanced to the quarterfinals where they fell to top-seeded Michigan. Senior Aimee Tarun is the only member on Iowa's roster that has competed in a Big Ten Tournament. She was defeated by Michigan's Kristen Dodge, 6-3, 7-5 in the quarterfinals.  
85 DOUGLAS/VAN HEUVELEN RANKED NO. 85
The doubles pairing of Junior Zoe Douglas and freshmen Elise van Heuvelen are ranked No. 85 in the ITA National Doubles rankings. The pairing was previously ranked 80 earlier in the season. They posted a 10-2 mark at the No. 1 doubles position this season. 
BECOME A FAN
Fans can follow the Iowa women's tennis team at facebook.com and via twitter 
@Iowa_Tennis. Live results from this weekend are available on the Iowa women's tennis schedule page at hawkeyesports.com and FightingIllini.com.