Hawkeye Fan Shop — A Black & Gold Store | 24 Hawkeyes to Watch 2016-17 | Hawk Talk Monthly — April | Box Score (PDF)
Hawkeyes fall to Indiana in Opening Round of B1G Tournament
 
CHAMPAIGN, ILLINOIS – The University of Iowa women's team fell to Indiana, 4-2, on Thursday in the first round of the Big Ten Tournament. The Hawkeyes finish the season with a 16-9 (5-7) record.
 
"Credit Indiana today, they played well," said UI head coach Sasha Schmid. "It's always hard and sad to end the season."
 
Indiana was able to get out to a 1-0 match lead with the doubles point victory. The Hoosiers won on courts one and three to win doubles.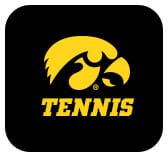 The second match of the first round in the Big Ten Tournament saw five of six matches go into a three sets. Junior Zoe Douglas got the best of Paula Guitierrez, defeating her 6-2, 4-6, 6-1 at the No. 2 singles position.
 
Junior Montana Crawford picked up a win at the No. 5 position. She defeated Pauline Jahren 4-6, 6-1, 6-2. Crawford's victory tied the match at, 2-2, with two matches left to play.
 
Indiana took a 3-2 lead with a win at the No. 6 position, and clinched the victory with a win at the No.1 position. Freshman Elise van Heuvelen battled against Madision Appel, but was edged in a third set, 4-6 6-2 7-5, securing the 4-2 victory for Indiana.
 
The Hawkeyes season featured a 9-0 start, second best in program history, the most wins since 2006 (16), and a berth in the Big Ten Tournament for the first time since 2014.
 
"I'm proud of this team and our season. We grew in many ways," said Schmid. "I'm thankful for our seniors and all they gave to the program. We are looking forward to the 2017-18 season already."
 
 
Indiana 4, Iowa 2
Singles competition:
 
1. Madison Appel (IND) def. Elise Van Heuvelen (IOWA) 4-6, 6-2, 7-5
2. Zoe Douglas (IOWA) def. Paula Guitierrez (IND) 6-2, 4-6, 6-1
3. Anastasia Reimchen (IOWA) vs. Caitlin Bernard (IND) 6-7 (7-9), 6-3, 3-2, unfinished
4. Natalie Whalen (IND) def. Adorabol Huckleby (IOWA) 2-6, 6-1, 6-0
5. Montana Crawford (IOWA) def. Pauline Jahren (IND) 4-6, 6-1, 6-2
6. Kim Schmider (IND) def. Kristen Thoms (IOWA) 6-3, 7-5
Order of finish: 4,2,5,6,1
 
Doubles competition
1. Madison Appel/Kim Schmider (IND) def. Elise van Heuvelen/Adorabol Huckleby (IOWA) 6-3
2. Zoe Douglas/Kristen Thoms (IOWA) vs. Natalie Whalen/Paula Guitierrez (IND) 5-5, unfinished
3. Caitlin Bernard/Pauline Jahren (IND) def. Montana Crawford/Aimee Tarun (IOWA) 6-3
Match Notes:
 
Order of finish: 3,1 Singles