Hawkeye Fan Shop — A Black & Gold Store | 24 Hawkeyes to Watch 2016-17 | 2017 Football Season Tickets | Hawk Talk Monthly — May 2017 | KinnickEdge.org | A VIDEO — A Look Toward the 2017 Season | Signing Day Central | 2017 NFL Draft Central | VIDEO — Josey and his patent
 Editor's Note: The following first appeared in the University of Iowa's Hawk Talk Daily, an e-newsletter that offers a daily look at the Iowa Hawkeyes, delivered free each morning to thousands of fans of the Hawkeyes worldwide. To receive daily news from the Iowa Hawkeyes, sign up HERE.
By DARREN MILLER
hawkeyesports.com
 
IOWA CITY, Iowa — As a linebacker for the University of Iowa football team, Josey Jewell loathes opposing offenses. As an aspiring farmer from Decorah, Iowa, he despises fencing.
 
Jewell deals with opposing offenses on Saturdays in the fall; his quest to eliminate making and mending agricultural fencing continues.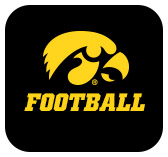 Three years ago, Jewell was in an entrepreneurship and innovation class taught by Bob Walker, a lecturer in the Pappajohn Entreneurial Center. Students were encouraged to share their personal "pain points," which to entrepreneurs is another way of revealing what you dislike in everyday life.
 
Jewell's pain point was working on fence on his 1,000 acre farm in Northeast Iowa.
 
In the spirit of GPS dog collars, Jewell hatched an idea to take a similar approach that would enclose larger livestock — like the 200 head of cattle that annually roam timberland on his property.
 
"I thought, this needs to done," Walker recalled upon hearing Jewell's idea. "This could work on sheep, goats, any type of livestock. You could do mob grazing as well, where you put a large number of animals on a small plot and rotate them. You could about double your herd on the same ground, so by the time they get back to the original plot of pasture, (the grass) is all recovered."
 
Jewell continued to research his project last summer during an eight-week accelerator course.
 
"I thought about the dog collars using underground shock," Jewell said. "I needed something more versatile that is already on a cow, which is the ear tag. That is why I started taking more classes in the entrepreneur program.
 
"Bob contacted me right after I made that pitch and he said 'I want to talk about this a little more.' He has been helping me through most of that."
 
A broad patent has been submitted.
 
"Patents are tough," Jewell said. "They are written over a year and they cost quite a bit of money."
 
This is how Jewell's invention would work in an ideal setting: Cattle are fitted with an ear tag with GPS and released in an area with Geo-fence. When cows come close to a boundary, the tag would vibrate, give a sound, and eventually send a shock to turn them. There would be no stress or pressure on fences.
 
"I wanted to create a viable product and have it work," Jewell said. "We put it on a cow's ear and tested that on the (Decorah) farm and it actually works. Proof of concept is proven; it works on the ear of a cow, but the business side, the patent, is the No. 1 thing we have to get taken care of."
 
Last season in football, Jewell made 124 tackles with nine pass breakups and five quarterback hurries. He was named second-team All-Big Ten, fourth-team All-American, permanent team captain, and Iowa's defensive most valuable player. In the classroom, Jewell was named Academic-All-Big Ten for a third time. 
 
"With everything he has going on, Josey has put a lot of effort into (the ear tag project) and he is passionate about it," Walker said. "He saw the need and came up with a creative idea on how to solve that problem."
 
Jewell will graduate in December with a degree in enterprise leadership. He has a season left in a Hawkeye football uniform, where he is a shoo-in for repeat consideration for the Butkus Award as the nation's best collegiate linebacker. If football isn't in Jewell's professional future, he has something to fall back on; it's another example of a Hawkeye program preparing athletes for the next level athletically as well as for life after sports.
 
"It has been a good ride," Walker said. "I told his dad, 'You know, Josey could make more money off this than he does playing football.' We'll see what happens, I think it is a great idea."