Hawkeye Fan Shop — A Black & Gold Store | 24 Hawkeyes to Watch 2016-17 | Hawk Talk Monthly — May 2017
Editor's Note: The following first appeared in the University of Iowa's Hawk Talk Daily, an e-newsletter that offers a daily look at the Iowa Hawkeyes, delivered free each morning to thousands of fans of the Hawkeyes worldwide. To receive daily news from the Iowa Hawkeyes, sign up HERE.
By DARREN MILLER
hawkeyesports.com
EUGENE, Ore. — Every collegiate athletic program has that one recruit who moves the needle, increases expectations, and wins with regularity. In the case of University of Iowa men's track and field, that recruit was Aaron Mallett.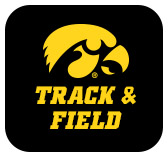 Mallett finished his Hawkeye career June 9 in lane three inside Hayward Field, affectionately referred to as the "earth's fastest track." A 2-mile-per-hour head wind teased him as he covered 110 meters and cleared 10 hurdles in 13.65 seconds. It was 0.41 seconds slower than his school-record (13.24) established while winning the Big Ten Championship on May 14 in State College, Pennsylvania.
 
Still, he finished fourth to become a first-team All-American.
 
But the fourth-place national finish was three placings below where Mallett envisioned. Even so, when you look at the Mallett Era from 2013-17, it was the final exceptional outing by the most exceptional hurdler the program has known.
 
"Immediately I thought, 'Do I get another chance?'" Mallett said. "I saw my name pop up well from where I wanted it to be in fourth, but you get one shot at it, you only get 13 seconds. It's the Division I level; I know the guys I am competing against and the level of competition. After the race I knew ways I could have been cleaner and crisper, but (fourth) is the result I got."
 
The race was a blur to Mallett the morning after he and his teammates tied for 17th in the nation with 15 points. Mallett accounted for five of those points.
 
He remembers reacting well to the starting gun and feeling good over the first hurdle. Perhaps the excitement got to him as Mallett neared the second hurdle and in his words, he "faltered a little."
 
"I tried to get it back, but I rushed my transition which caused me to hit a lot of hurdles and get sloppy with my form," Mallett said. "It caused guys to get away from me."
 
It was the first olive out of the jar for a Hawkeye men's team that was shutout in the NCAA Championships a year ago. Soon, sophomore Reno Tuufuli added four points to the team total by placing fifth in the discus with a throw of 196-feet, 2-inches. An hour later, the 4×400-meter relay of sophomore DeJuan Frye, sophomore Mar'yea Harris, freshman Collin Hofacker, and freshman Emmanuel Ogwo placed third in a school-record time of 3:01.91. Iowa's point production came from three sophomores, two freshmen, and Mallett, the graybeard senior who bought into head coach Joey Woody's vision as a high school senior in St. Louis.
 
I saw coach Woody working with guys that I felt were developmental guys and he was making them so good. If he is making those guys good, then I thought he could make me good as well. I bought into what he was selling about his program and where he wanted to go. — Aaron Mallett 
"I saw coach Woody working with guys that I felt were developmental guys and he was making them so good," Mallett said. "If he is making those guys good, then I thought he could make me good as well. I bought into what he was selling about his program and where he wanted to go. Along the way I saw he was getting me to those points, so his beliefs and visions were the same I wanted in my career."
 
For Mallett, the dreams and visions of a collegiate rookie in the fall of 2013 turned into six All-America honors (three indoor, three outdoor) and five Big Ten championships (three outdoor, two indoor). He holds school records in the 110 hurdles, 60 hurdles (7.63), and he anchored the school-record 4×100 relay (39.12).
 
"To say I could arguably be Iowa's best hurdler is a special accomplishment and I will cherish that until someone comes and betters me," Mallett said. "For people to look at me in that light means a lot."
 
Mallett will compete at the USA Track and Field Championships from June 22-25 in Sacramento, California. If he does well, he hopes to get a contract and compete professionally.
 
There is something else he wants to happen in two weeks: Mallett would like to compete in University of Iowa colors.
 
"I think coach Woody is going to let me wear the Iowa uniform one more time for that," Mallett said. "That will be fun."