Hawkeye Fan Shop — A Black & Gold Store | 2017 Football Season Tickets | KinnickEdge.org | Fight For Iowa | Hawk Talk Monthly — June 2017 | A VIDEO — A Look Toward the 2017 Season | Signing Day Central | VIDEO — Behind the Scenes | B1G Media Day Photo Gallery
Editor's Note: The following first appeared in the University of Iowa's Hawk Talk Daily, an e-newsletter that offers a daily look at the Iowa Hawkeyes, delivered free each morning to thousands of fans of the Hawkeyes worldwide. To receive daily news from the Iowa Hawkeyes, sign up HERE.
By DARREN MILLER
hawkeyesports.com
 
CHICAGO — Every Big Ten Conference player, coach, and fan has heard of Josey Jewell, Matt VandeBerg, and Sean Welsh. That wasn't the case five years ago when the three University of Iowa football players were high school seniors.
Welsh, a native of Springboro, Ohio, was rated a three-star offensive lineman and the in-state Big Ten institution wasn't interested. Jewell and VandeBerg were undersized two-star recruits who barely found their way onto the Hawkeyes' radar.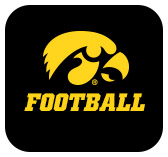 Fast forward to July, 2017. Jewell, VandeBerg, and Welsh are representing the Iowa program at the Big Ten Football Media Days that conclude Tuesday at the Hyatt Regency McCormick Place. 
Last season Welsh was named third-team All-Big Ten by coaches and media and second-team All-America by USA Today. He is currently on the Outland Trophy Watch List, honoring the nation's best offensive lineman.
VandeBerg returns for a fifth season with a resume that includes 106 catches for 1,302 yards and eight touchdowns.
A year ago, Jewell — an Iowa native from Decorah — was named second-team All-Big Ten by coaches and media and fourth-team All-America by three publications. On Monday he was added to the Big Ten Conference Preseason Honors List, a nice complement to being on the Bednarik, Butkus, Nagurski, and Wuerffel watch lists. 
"Part of the fun of coaching is seeing guys grow and improve," Iowa head football coach Kirk Ferentz said Monday during his turn at the podium. "Sean was a mid-level recruit and I can't remember who else in the Big Ten was recruiting him. It wasn't like he was a high-profile guy. He just came in and played from day one. 
"We almost didn't recruit Matt and Josey. To watch their progress and evolution over the course of their careers has been fun."
Jewell brought his 195-pound frame to the Hawkeyes with a decision that was finalized in the week leading up to signing day in 2013. He battled during his redshirt season, but admitted that even third-string offense linemen were occasionally planting the back of his practice jersey to the turf during scrimmages. 
"Somehow coach (Chris) Doyle and the rest of the strength and conditioning staff put a bunch of weight on me and made me faster. It's crazy what they can do at Iowa," Jewell said. "I wouldn't be close to where I am without coach Doyle or coach Ferentz."
Jewell is now listed at 236 pounds and has 301 career tackles, including 126 as a sophomore and 124 as a junior. After his junior season he was named Iowa's defensive MVP and permanent team captain. 
Like Jewell, VandeBerg was scrawny by Division I standards when he enrolled at Iowa as a 162-pound wide receiver. The native of Brandon, South Dakota, has tacked on more than 30 pounds in four years and has evolved into one of the team's most dynamic offensive weapons.
"Coach Doyle gets on you about nutrition, hydration, and taking care of your body away from the facility," VandeBerg said. "Mentally, coach Ferentz tries to make you become a better character person. That translates to wanting to help the team win and being a team guy."
As for Welsh, he has started 35 collegiate games at right guard, left guard, and right tackle. He is the main cog on an offensive line that received the 2016 Joe Moore Award as the nation's most outstanding offensive line unit.
Welsh came to Iowa because of its reputation of developing football players in general and offensive linemen in particular.
"I don't think I would be anywhere near where I am today if it wasn't for the coaching and the development they have fostered at Iowa," Welsh said. "They took an average recruit and I do alright. I owe them a lot of credit."
As VandeBerg explained, player development at Iowa isn't always physical and it isn't always reflected on a field of play. All three Hawkeyes who have been in Chicago the past two days have been members of the team's Leadership Group and have been Academic All-Big Ten. At Iowa, the student-athletes continue to do more than tackle, block, and catch passes.
"I could say that about a lot of guys in the senior class," Ferentz said. "It's all about the way they have run the race."