Hawkeye Fan Shop — A Black & Gold Store | 24 Hawkeyes to Watch – 2017-18 | Fight For Iowa | WSOC: Richmond BOX (PDF) | Boxscore
RICHMOND, Virginia —  Redshirt sophomore Kaleigh Haus completed the first hat trick of her career in the University of Iowa soccer team's 5-1 win over Richmond in Robins Stadium on Sunday. 
 
Haus got things started with a goal in the fifth minute off an assist from sophomore Natalie Winters, but
Iowa gave up one goal just two minutes later off a free kick from Richmond's Makenzie Cox.
 
Tied 1-1 in the 14th minute, Haus once again shot the ball past the goalie to put the Hawkeyes ahead.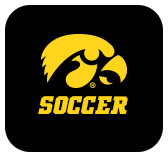 Sophomore Olivia Fiegel collected two goals for Iowa in the 30th and 51st minutes to give Iowa a 4-1 advantage. 
 
Haus finished her hat trick on the final goal of the game following another assist by Winters in the 55th minute.
 
KEY HAWKEYE PERFORMER
Haus was able to score three goals in 48 minutes of action. She competed in a total of 368 minutes and scored one goal for Iowa last season.
 
STAT OF THE GAME
Winters had three assists in 2016. She tied that number in today's game, helping both Haus and Fiegel to goals in the Hawkeye win.
 
QUOTING HEAD COACH DAVE DIIANNI
"Today was very important for us to make sure we put in a great effort so that we could leave Richmond with a win, especially after losing a game on Friday to weather.
 
"We had special moments at times in the final third that created the five goals and other chances to score.
 
"This was a team win, with solid efforts and performances by everyone involved.
 
"We will evaluate the good things we did today and continue to work on areas of improvement."
 
NOTABLES
All five goals were scored by sophomores, along with five of Iowa's seven assists.
Junior Moran Kemmerling has played two full games already this season. She completed the exhibition against Kansas and today's match against Richmond.
UP NEXT
The Hawkeyes host Iowa State on Friday, August 25 at 7:30 p.m. in the first Iowa Corn Cy-Hawk Series matchup of the season.
 
FOLLOWING #HAWKEYES ON SOCIAL MEDIA
Stay up-to-date on the latest with the University of Iowa women's soccer team through social media.  Follow the Hawkeyes on Twitter (@HawkeyeSoccer), Instagram/HawkeyeSoccer, and Facebook/HawkeyeSoccer.