Hawkeye Fan Shop — A Black & Gold Store | 24 Hawkeyes to Watch 2017-18 | WBB Tickets | Hawk Talk Monthly — December 2017
Editor's Note: The following first appeared in the University of Iowa's Hawk Talk Daily, an e-newsletter that offers a daily look at the Iowa Hawkeyes, delivered free each morning to thousands of fans of the Hawkeyes worldwide. To receive daily news from the Iowa Hawkeyes, sign up HERE.
By DARREN MILLER
hawkeyesports.com
IOWA CITY, Iowa — Jan Jensen is from Kimballton, Iowa, population 295. She has a soft spot in her heart for small-town basketball players, especially post players.
 
Megan Gustafson is from Port Wing, Wisconsin, population 164. The 6-foot-3 center is exactly what University of Iowa women's basketball needed in its recruiting class of 2015.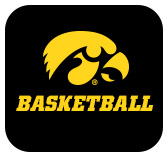 Ever wonder what lengths a coach will go to serenade a potential student-athlete? Jensen, an associate head coach for the Hawkeyes, has two stress-filled anecdotes from trips to Port Wing to scout Gustafson, the high-scoring high school phenom.
 
In this particular recruitment, it was a total staff effort, but there is no denying Jensen's small-town intuition.
 
"Any time I recruit a kid from a rural, small school you can't help but bond a little bit over the similarities," Jensen said. "To some degree, you can always connect with what they are feeling."
 
Jensen did alright for herself on any basketball court. She scored 3,457 points competing in the six-player game for Elk Horn-Kimballton High School from 1983-87 and is inducted into the Iowa Girls' High School Athletic Union Hall of Fame. Jensen went to Drake University, where she scored 1,996 points and was named Gateway Conference Player of the Year in 1991. Her No. 13 jersey hangs from the rafters at Drake's home court, the Knapp Center.
 
With more than 20 years of college coaching experience, Jensen knows what to look for in a recruit. And she knows how far she will go to sign that recruit. In the case of Gustafson, it was quite a journey.
 
It is impossible to fly directly into Port Wing and nearly as difficult to drive there during basketball season. Port Wing is a stone's throw from Lake Superior and the average temperature in the month of January is 19 degrees Fahrenheit.
 
On one snowy trip, Jensen's small private plane landed, but she wasn't out of the woods yet. Jensen drove 45 minutes to the high school with snow falling and blowing hard across the road. Phone service was intermittent at best.
 
Jensen wondered if the game would still be played.
 
"Oh yeah, no problem," was the reply from locals.
 
That night Gustafson scored a pile of her 3,229 career points, pulled down several of her 1,724 rebounds, and swatted many of her 628 blocked shots.
 
"When I saw her play, every mile was worth it because you see how good she is," Jensen said. "I was thankful I had made the trip, because it was easy to see that if we could get her, she was going to be special."
 
The visit by a member of Iowa's coaching staff in a snow storm impressed Gustafson as well. Like many of the fans in attendance that evening, Gustafson was concerned for the safety of the town's most recent visiting "celebrity."
 
"To get to my town you have to go through about an hour of forest and there is nothing else," Gustafson recalls. "When you add a blizzard, it can get interesting. I was a little worried; the coaches from here were trying to contact her to make sure she was OK."
 
That isn't Iowa's only traumatic recruiting tale. Another time Jensen flew into a different small airport and was awed by a Twin Peaks-like view on her descent. Once on the ground, she still needed a rental car, but this wasn't exactly O'Hare Airport in Chicago.
 
"There was an envelope stuck to the airport door and it said Jan Jensen, so I open the envelope," Jensen said. "The note says, 'There will be a key in a blue cup inside the cupboard.'"
 
Jensen found the key that opened a second door before she got to keys for her rental.
 
"It was like a puzzle anybody could have solved before I got into the car, but no one would care to steal this car," Jensen said.
 
"The car was a 1994 Impala that had one working head light. Both beams worked high, but only one on low. I had to drive that way for 30 miles, it was nuts. I found one gas station where I could get food."
 
Iowa's early entry into the Gustafson sweepstakes paid off and Jensen wasn't surprised. She knows about tight community bonds, wholesome living, and hospitable folk. They are as good as their word.
 
"If you are in early with a kid in a smaller area like that, it will typically bode well because they stay with that loyalty," Jensen said. "Thankfully Megan did. We had to beat off some people at the end, but she held, which is great."
 
Once Gustafson joined a top AAU team in Wisconsin, she was no longer a hidden gem from Parts Unknown. Her contributions in those elite tournaments put Jensen and the Hawkeyes at ease as to what Gustafson could accomplish at the next level. But powerhouses like Stanford also noticed the skilled post player.
 
"Thankfully we had made contact early," Jensen said.
 
In her first two-plus seasons of Division I college basketball, Gustafson has scored 1,242 points (tied for 22nd in school history) with 716 rebounds (14th) and 121 blocked shots (sixth).
 
Through 12 games of her junior season, Gustafson is averaging 21.8 points and 12.4 rebounds per game. She is shooting 70.3 percent from the field and 75.9 percent from the free throw line. Gustafson has 38 career double-doubles for points and rebounds.
 
"Megan is arguably the hardest worker we have ever had," Jensen said. "A word for her is earnest. She is quick to deflect praise. She is great, but I have never seen a kid be so happy for other people regardless if she is the leading scorer or if she isn't having the greatest night. She is a beautiful person inside and out."
 
Fans can watch Gustafson and the No. 25 Hawkeyes (11-1 overall) on Thursday against Drake (5-6) on Mediacom Court inside Carver-Hawkeye Arena. Tip-off is set for 7 p.m. (CT).