Hawkeye Fan Shop — A Black & Gold Store | Hawk Talk Monthly — January 2018 | Kinnick Edge
Editor's Note: The following first appeared in the University of Iowa's Hawk Talk Daily, an e-newsletter that offers a daily look at the Iowa Hawkeyes, delivered free each morning to thousands of fans of the Hawkeyes worldwide. To receive daily news from the Iowa Hawkeyes, sign up HERE.
By RICK BROWN
hawkeyesports.com
IOWA CITY, Iowa — Former University of Iowa and NFL football player Matt Bowen is more than willing to share his opinion about Phil Parker.
 
"I think he's the best defensive back coach in the country," Bowen said. "I'll say that to anybody."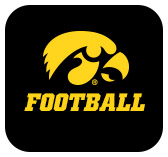 When Kirk Ferentz replaced Hayden Fry as the Hawkeyes' head football coach following the 1989 season, he hired Parker as his defensive backs coach. Parker is now the Hawkeyes' defensive coordinator and secondary coach.
 
The Fry-to Ferentz transition took place in Bowen's senior season. The strong safety went on to become the first defensive back to be selected in the NFL Draft during the Ferentz regime. Parker played a big role in getting him there.
 
St. Louis took Bowen in the sixth round of the 2000 draft, and he played seven NFL seasons for the Rams, Green Bay, Washington, and Buffalo.
 
Eleven more Hawkeye defensive backs coached by Parker have been drafted since. Cornerback Josh Jackson is expected to make it a dozen in April.
 
"I think Josh Jackson is a heck of a player," said Bowen, who now writes for ESPN.com.
 
In a league obsessed with a stopwatch and 40-yard-dash times, Bowen said that Jackson's values are obvious on film.
 
"That's his resume, and it's a good resume," Bowen said. "Watch him against Ohio State and Wisconsin and tell me what you think."
 
Jackson had three interceptions against Ohio State, and returned two interceptions for touchdowns against Wisconsin. He tied an Iowa single-season record with eight interceptions, which also led the nation.  Jackson was a unanimous All-American, won the Jack Tatum Award and was the Big Ten's Tatum-Woodson Defensive Back of the Year.
 
Jackson followed in the footsteps of cornerback Desmond King, who just completed his rookie season with the Los Angeles Chargers. King won the same awards as Jackson as a junior. He was a second-team All-American and first-team all-Big Ten as a senior, when teams rarely challenged King.
 
The Chargers took King in the fifth round. Pro Football Focus ranked him as the eighth best rookie in the NFL this season.
Before King there was Micah Hyde, who won the Tatum-Woodson Defensive Back of the Year Award and was a first-team all-Big Ten pick in 2012. Hyde, now with the Buffalo Bills, is headed to his first Pro Bowl this season and was named to the Associated Press All-NFL second team.
 
"That is a tremendous accomplishment," Bowen said.
 
Jackson, King, and Hyde polish Bowen's overwhelming praise for Parker. According to Rivals.com, Jackson was a two-star recruit out of Corinth, Texas. He picked the Hawkeyes over Nevada, New Mexico State, and Colorado State.
 
King was a three-star recruit out of Detroit, Michigan, who had been committed to Central Michigan and then Ball State. Hyde, from Fostoria, Ohio, was a Rivals two-star prospect. He picked Iowa over Ball State, Bowling Green, and Miami of Ohio.
 
"Look at how Phil Parker developed those guys," Bowen said. "None of them were five-star recruits."
 
Bowen said an NFL general manager once told him that when you draft an Iowa player, it's like getting a second-year pro.
 
"That's not in terms of ability or touchdowns or all that other stuff," Bowen said. "This is about maturity, accountability, and discipline."
 
Bowen will tell you those are three pillars of Iowa football under Ferentz, with plenty of Parker, strength coach Chris Doyle, and others mixed in.
 
Bowen remembers his first practice under Parker's watchful eyes in the spring of 1999.
 
"He challenged us," Bowen said. "We all looked at each other and said, 'This is going to be really hard.' But it was how he challenged me that I remember. To be pushed, and pushed to limits I didn't think I could get to. I needed that, as a player and a person."
 
It pushed him right into the NFL. Now the father of four, Bowen said Parker's challenges mirrored those he has faced in life.
 
"I always tell myself, 'Heck, if I can get through Phil's first practice, I can get through anything,'" Bowen said. "He made us better people."
 
Iowa's history of developing top-notch defensive backs started long before Parker arrived.
 
Emlen Tunnell, who played at Iowa in 1946 and 1947, went on to set an NFL record with 79 interceptions during his 14-year career with the New York Giants and Green Bay. The record lasted until 1970, when former Hawkeye Paul Krause (1961-63) got his 80th interception. Tunnell was the first African American inducted into the Pro Football Hall of Fame in 1967. Krause, who played the final 12 seasons of his 16-year NFL career with the Minnesota Vikings, was inducted in 1998.
 
But Parker has added to the tradition, a list that includes NFL players like 2007 Defensive Player of the Year Bob Sanders, Sean Considine, Bradley Fletcher, Tyler Sash, Amari Spievey, Charles Godfrey, Shaun Prater, and Jordan Bernstine.  Jackson is his latest gem, and recruits are lining up to follow in his footsteps.
 
When Jackson announced on Wednesday that he was bypassing his final season of eligibility at Iowa to enter the draft, safety and Iowa signee Dallas Craddieth wished him good luck on Twitter. Then he started to campaign for Jackson's old uniform.
 
"Hopefully they'll pass me down that No. 15," Craddieth said.