Hawkeye Fan Shop — A Black & Gold Store | Hawk Talk Monthly — January 2018 | Kinnick Edge | Ferentz Transcript (PDF)
By JAMES ALLAN
hawkeyesports.com
IOWA CITY, Iowa — University of Iowa head football coach Kirk Ferentz sees the 2017 New Era Pinstripe Bowl victory over Boston College as a blueprint for success moving forward.
 
Ferentz closed the door on Iowa's 2017 season with a news conference Wednesday afternoon in the Stew and LeNore Hansen Football Performance Center.  The Hawkeyes finished the season 8-5.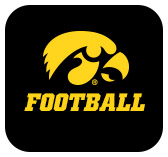 "We played tough, smart, physical football in the second half, but we had ups and downs during the course of the ball game," said Ferentz. "Everything in the way we won the game is representative of what we need to do to have success."
 
Iowa rallied from a 17-10 halftime deficit to end its five-year bowl-losing streak. After giving up 281 first-half yards, the Hawkeyes adjusted and surrendered 102 second-half yards and forced two turnovers to win its first bowl game since 2010.
 
"We got a few things straightened out at halftime and played hard-nosed, opportunistic football in the second half to find a way to finish with a win and finish on a high note," said Ferentz. "Hopefully that win will give us a jolt of energy as we head into the out-of-season program."
 
Players return to campus Tuesday and the out-of-season program begins Jan. 17.
 
Ferentz continued to reference the 2017 season when forecasting what is to come in 2018. He saw good things on both sides of the football in 2017. 
 
There were offensive flashes, highlighted by a 55-24 victory over No. 3 Ohio State. He sees the offense as a unit that can take a big step forward in 2018 despite losing two starters on the line along with 1,000-yard rusher Akrum Wadley and receiver Matt VandeBerg.
 
"I am counting on our offensive line to take a big step," said Ferentz. "We're losing two good players, but we have a lot of guys coming back that are going to be more in the flow of things and that ties in with the staff.
 
"We were basically a new offensive staff (in 2017) starting in February by the time we got everybody hired and in place. We have potential to take a big step in that whole enterprise and improvement up front will get us there."
 
Defensively, there isn't a wand that can be waved to make up for the loss of the three departing linebackers (All-American Josey Jewell, Bo Bower, and Ben Niemann), All-America cornerback Josh Jackson, or three-year starting defensive tackle Nathan Bazata.
 
The beauty of the bowl preparation was a chance for the Iowa coaching staff to dive deeply into the future depth chart.
 
"Part of December was looking at our entire roster," said Ferentz. "It's one nice thing about a bowl, it gives you a chance to look at things top-to-bottom.
 
"(In the linebacking corps) I can tell you in my mind, nobody has emerged. We have favorites, but we will let that get decided over the next six to eight months.  It's an open competition for everybody right now, including anybody that comes in."
 
On the coaching front, Ferentz is doing his due diligence in regard to making a hire for the newly-added 10th-full-time assistant coach. Meanwhile, LeVar Woods is going to be the team's sole special teams coach (Seth Wallace shared the role last season), in addition to keeping the tight ends position group.
 
On the personnel front, Ferentz wished Tyler Wiegers well in his transfer to Eastern Michigan to compete for its starting quarterback position as a graduate transfer. He said senior Matt Nelson will miss spring practice after being injured during the New Era Pinstripe Bowl.