Hawkeye Fan Shop — A Black & Gold Store | 24 Hawkeyes to Watch – 2017-18 | Hawk Talk Monthly — January 2018 | 2018 UWW World Cup | Season Tickets | Tickets for Oklahoma State Dual
By DARREN MILLER
hawkeyesports.com
IOWA CITY, Iowa — There is nothing like winning your Big Ten Conference wrestling debut inside Carver-Hawkeye Arena. To do it via fall is icing on the cake.
 
It is well documented that freshman Spencer Lee did just that Jan. 5 as the No. 7 University of Iowa flattened Michigan State, 49-6. So did sophomore Paul Glynn.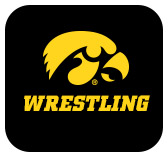 There was a weeks' worth of buzz prior to Lee's first varsity match at 125 pounds, but the 8,486 fans in attendance Friday weren't even sure Glynn would be competing. Glynn and senior Phillip Laux have shared the duties at 133 pounds — Laux owns a record of 9-3 with a fall, Glynn was 5-5 and riding a two-match losing streak at the Midlands Championships.
 
Glynn's only previous experience competing in Carver-Hawkeye Arena was a 2-0 loss against No. 5 Bryan Lantry of Buffalo in the Iowa City Duals on Nov. 17.
 
"It was a cool environment. I like to have a lot of fans out there when I wrestle, so it was a little bit of a different feeling than the Iowa City Duals," Glynn said.
 
The venue was already rocking when Glynn took the mat. The highly touted Lee, in his varsity debut, pinned Rayvon Foley in 46 seconds.
 
"It was awesome, exciting, and encouraging walking out there; the crowd was going nuts when Spencer got a pin," Glynn said. "I have to make sure I'm focused on my match and stay calm and not get too hyped."
 
Glynn's opponent was redshirt freshman Matt Santos, who had four wins in his first five matches. Twenty-four seconds into Friday's bout, Santos had a takedown, two-point nearfall, and a 4-0 lead. Before the period ended, Glynn escaped, secured a takedown and was back in the match.
 
"Paul Glynn is down 4-1 and gets a takedown at the end of the first period, he has his motor running," Iowa head coach Tom Brands said. "We have to keep getting better, but my point is, if you compete hard, good things happen."
 
Glynn scored all five points in the second period to take an 8-4 lead. Less than 30 seconds after Santos was warned for stalling, Glynn won by fall in 6:13.
 
"I was wrestling hard in every position and trying to score points," Glynn said. "The fall is always on my mind. I went out there and threw a headlock that may or may not have been there in the first 30 seconds or so. It probably wasn't the smartest thing to do, but I'm going out there, letting it fly, and trying to create action."
 
The fall by Glynn was the second of six for the Hawkeyes in the dual. Iowa improved to 8-0 overall, 4-0 in the Big Ten.
 
Before the sweat dried after his win against Michigan State, Glynn and his coach were already looking ahead to Sunday's battle against No. 3 Oklahoma State. The stakes will be higher for the Hawkeyes — and Glynn. The two-time state runner-up from Bettendorf, Iowa, puts his 6-5 record up against third-ranked, defending All-American Kaid Brock (14-2).
 
"We have Kaid Brock coming to town and we have to be ready," Brands said. "He is a national championship contender and we have to be ready and  move forward. (Glynn) has to do evaluation and you saw his energy after the fall and that is good, but let's keep things in perspective — let's fry those bigger fish."
 
To date, Brock will be the biggest fish Glynn has attempted to fry.
 
"It's another match, another opponent," Glynn said. "(Brock) is human, so I'm going to go out and wrestle hard."
 
Sunday's nonconference dual on Mediacom Mat will begin at 3:02 p.m. (CT). Oklahoma State won last season in Stillwater, Oklahoma. 24-11. Prior to that, the Hawkeyes had won three in a row.