Hawkeye Fan Shop — A Black & Gold Store | 24 Hawkeyes to Watch – 2017-18 | Hawk Talk Monthly — January 2018 | 2018 UWW World Cup | Season Tickets | Tickets for Oklahoma State Dual
Editor's Note: The following first appeared in the University of Iowa's Hawk Talk Daily, an e-newsletter that offers a daily look at the Iowa Hawkeyes, delivered free each morning to thousands of fans of the Hawkeyes worldwide. To receive daily news from the Iowa Hawkeyes, sign up HERE.
By JAMES ALLAN
hawkeyesports.com
IOWA CITY, Iowa — Cash Wilcke is riding a 13-match winning streak heading into today's match against the highest ranked opponent of his career.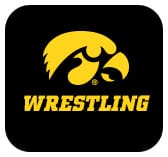 The University of Iowa sophomore 197 pounder will face Oklahoma State's No. 2/3 ranked Preston Weigel at 3 p.m. (CT) on Mediacom Mat inside Carver-Hawkeye Arena.  The Cowboys are ranked third as a team, Iowa is seventh.
 
"Rankings have never meant much to me," said Wilcke, who has ascended six spots to fifth in the three national rankings. "We have tougher competition coming up. I am looking forward to wrestling better guys; I am going to wrestle whoever they put in front of me."
 
Wilcke has taken the mat 13 times this season and he has 13 wins — three coming by pin, two major decisions, and one technical fall.  His hand has been raised three times in matches against ranked foes, including a 3-1 sudden victory decision over Penn's 13th-ranked Frank Mattiace to win his first Midlands title.
 
Wilcke's rise has corresponded with a rise in confidence. Last year, he rode a rollercoaster during his first season in the Hawkeye lineup, a year where he finished 19-13.
 
He started the season with seven victories during the early portion of Iowa's schedule, but then won four times in his next 11 matches.  After going 2-3 at the Big Ten Championships, Wilcke was sitting on the outside looking in at 33 other national qualifiers in his weight class. 
 
An injury to one of the qualifiers allowed Wilcke to earn a spot at the NCAA Championships in St. Louis where he displayed his best wrestling of the season. He reached the Round of 12 — one win shy of earning All-America honors.
 
"Last year I had a rough patch throughout the season and I was kind of down on myself," said Wilcke. "Having that good run (at the end of the year) brought me up and now I know I can wrestle with these guys.
 
"I know I always had it in me. I feel like I filled out better this year, and I am in a better place mentally and physically."
 
Wilcke says he has more in the gas tank during matches this season and he knows he can rely on his athleticism.
 
"This year when I get in scrambles, I feel like my athleticism favors me, no matter who I am wrestling," he said.
 
Sunday's match against Wiegel will be their second meeting.  The Cowboy junior won a 6-0 decision last January in Stillwater, Oklahoma, during the Cowboys' 24-11 victory.
 
"I had a close match with him last year," said Wilcke. "He ran away with it when he got on top. I have gotten a lot better in positions this year, so I am looking forward to the test."
 
Sunday's dual begins a challenging stretch for Wilcke. Following the match against Wiegel, Wilcke will face No. 1 Kollin Moore of Ohio State on Jan. 21 and Michigan's 11th-ranked Kevin Beazley on Jan. 27. 
 
"There are going to be bigger matches (moving forward), but we're going to get ready for them the same way," said Wilcke. "You can't overlook anybody. Just because we have tougher kids doesn't mean we're going to do anything different. We're going to get ready for our matches and wrestle them the way we know how."
 
Iowa head coach Tom Brands says rankings are a barometer, but they don't matter once you step on the mat.
 
"Every opportunity is an opportunity and we have a big opportunity against a highly-ranked opponent," said Brands. "Oklahoma State is coming after the same thing you are after and they're coming in to beat you and beat you bad.
 
"(Our guys) are going to have an opportunity. What are they going to do with that opportunity?  If our guys are ready to go, I feel good about our chances."
 
Tickets are available for today's dual through the Iowa Athletics Ticket Office at 800-IA-HAWKS or online at hawkeyesports.com.  The dual will be televised on BTN (and streamed online on BTN Plus on BTN2Go and FlowWrestling.com) with Tim Johnson and Jim Gibbons on the call.