Hawk Talk Monthly — January 2018 | Fight For Iowa | Hawkeye Fan Shop — A Black & Gold Store | McCaffery Transcript (PDF)
By JAMES ALLAN
hawkeyesports.com
IOWA CITY, Iowa — There will be a little something extra in Carver-Hawkeye Arena on Saturday when the University of Iowa men's basketball team hosts No. 3 Purdue.
 
The 18-2 Boilermakers are winners of 14 consecutive games and are perfect in seven Big Ten Conference games, but the "extra" will come from remembering a Hawkeye great. Iowa will honor the life and legacy of Chris Street throughout Saturday's game.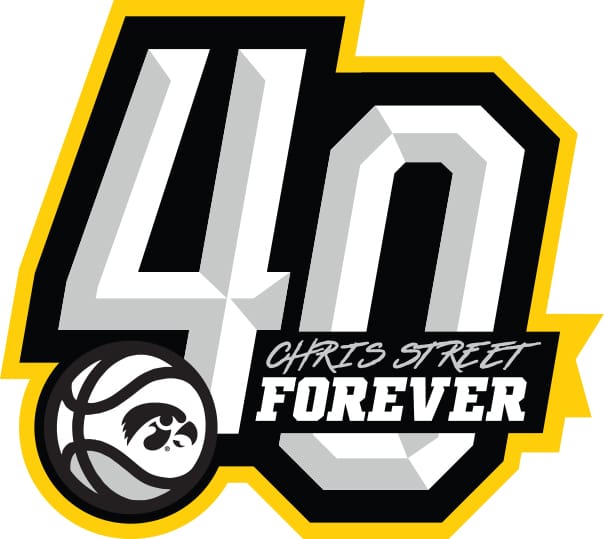 "We haven't been connected most games this year, but this game has a little more weight to it," said sophomore Jordan Bohannon. "We're recognizing the great player and person that Chris Street was.  There are a lot of Iowa natives (on the roster) and this game is going to have more weight to it.
 
"There isn't a better game to have it, at home against one of the top teams in the country.  Hopefully we can take that to heart a little more and have more motivation in this game."
 
Street's parents, Mike and Patty, and family members, as well as a number of his teammates, coaches, and support staff will be in attendance. A long list of other Iowa basketball alumni, including numerous former winners of the Chris Street Award — the highest honor presented to Iowa men's basketball players — will also be in attendance to celebrate Street's life and legacy.
 
"The fact we're going to honor his memory the way we are tomorrow is special," said Iowa head coach Fran McCaffery. "It speaks to who we are as a program and institution. You remember and you honor. I think it will be good for everybody involved."
 
On the court, Purdue will provide the Hawkeyes with their most challenging test to date. The Boilermakers are tied with Ohio State atop the Big Ten standings. Purdue hasn't lost since November when it fell in back-to-back games against Tennessee and Western Kentucky at the Battle 4 Atlantis in the Bahamas.
 
"(Purdue) plays together, they make the extra pass, and share it on the break," said McCaffery. "They run good stuff and have counters to it. It's not what they run, it's who's running it.
 
"Vince Edwards is playing as well as anybody in college basketball right now, Isaac Haas has emerged with Biggie (NBA first-rounder Caleb Swanigan) gone, and they have a 7-foot-3 guy backing him up with 57 blocked shots.
 
"Then it's the other experienced guys. (Dakota) Mathias is one of the best defenders in the league and a phenomenal 3-point shooter, so is (Vince) Edwards and P.J. Thompson, who is a terrific point guard. I have mentioned a bunch of their guys and I haven't even talked about their leading scorer, Carsen Edwards."
 
Carsen Edwards leads Purdue at 17 points per game; Vince Edwards averages 14.7 points and 8.1 rebounds.  The Boilermakers are second in the Big Ten in scoring (84.7 points) and leading the league in scoring defense (62.1). 
 
Iowa is on the other end of the spectrum, having lost four of its last five games to fall to 10-10 overall and 1-6 in league play, but Bohannon says the Hawkeyes are staying the course.
 
"We're all staying optimistic," he said. "We're a bunch of resilient guys. We went through a stretch last year where things weren't going our way, a lot of adversity hit us, and we were able to get something together toward the end of the season and make a run. That's something we're trying to do."
 
The Hawkeyes will be able to draw from an energized Carver-Hawkeye Arena crowd during a special afternoon in Iowa City.
 
"This game is going to have a little more meaning than most games," said Bohannon.
 
"We know it's a special day and game," said sophomore Tyler Cook. "That will naturally bring out something better in us and our coaches and the energy in the building as well."
 
Tipoff is set for 11:01 a.m. (CT).  There are standing room only tickets remaining by contacting the Iowa Athletics Ticket Office at 800-IA-HAWKS or visiting hawkeyesports.com/tickets.  The game will be televised on ESPN with Dave Flemming and Dan Dakich on the call.