Hawkeye Fan Shop — A Black & Gold Store | 24 Hawkeyes to Watch 2016-17 | Fight For Iowa | Hawk Talk Monthly — January 2018
IOWA CITY, Iowa — The University of Iowa women's tennis team won its eighth consecutive home opener Saturday, defeating Creighton, 6-1, at the Hawkeye Tennis and Recreation Center. 
 
The Hawkeyes got off to a strong start by grabbing the doubles point. Sophomore Elise van Heuvelen and senior Montana Crawford got Iowa started with a 6-1 win over Claire Embree and Michaela Henne. 
 
Senior Anastasia Reimchen and Junior Adorabol Huckleby clinched the doubles win by defeating Celine Massereau and Erin Epperson, 6-2.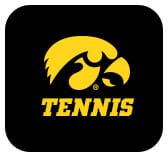 Senior Zoe Douglas and freshman Yufei Long's match against Ashley Ishimura and Darby Rosette was left unfinished with a score of 5-3, due to the Hawkeyes already winning two of the three matches. 
 
Iowa kept the ball rolling by winning five of its six singles matches. 
 
Reimchen was quick to defeat Laura Higueras in straight-sets, 6-1, 6-0. Long followed Reimchen's lead and topped Darby Rosette, 6-1, 6-0. 
 
Van Heuvelen secured the win for the Hawkeyes by defeating Michaela Henne in straight-sets, 6-0, 6-2. 
 
"Being back at home, playing our first match as a team has been really good and really exciting, I am pumped," said van Heuvelen. "I just go out there and try to do my job on the court and then go out and support the rest of the team."
 
Douglas beat Ashley Ishimura, 6-2, 6-4. Huckleby followed with a comeback win in a tie-breaker after dropping her second set to Claire Embree, 6-2, 2-6 (10-6). 
 
Freshman Danielle Bauers dropped a hard-fought match to Laura Higueras, 7-6, 6-4. 
 
NEXT MATCH
The Hawkeyes return to the court tonight hosting Northern Iowa at 6 p.m. (CT) at the HTRC. Admission is free to the public. 
 
QUOTING HEAD COACH SASHA SCHMID
"It is great to get out on the court. We have freshmen that are playing and getting comfortable. It really feels like the season has started now that we have started competing, it changes everything. I think it's wonderful for everyone. The matches were clean and we did what we needed to do. Now we have to regroup and get ready for this evening, and hopefully build on what we did against Creighton."
Iowa 6, Creighton 1
Jan. 20, 2018 | 12 p.m. | Iowa City, Iowa | HTRC
 
Singles
Zoe Douglas def. Ashley Ishimura, 6-2, 6-4
Elise van Heuvelen def. Michaela Henne, 6-0, 6-2
Yufei Long def. Darby Rosette 6-1, 6-0
Anastasia Reimchen def. Erin Epperson, 6-1, 6-0
Adorabol Huckleby def. Claire Embree, 6-2, 2-6, (10-6)
Laura Higueras def. Danielle Bauers, 7-6, 6-4
Montana Crawford def. Celine Massereau, 6-1, 6-0 (EXB)
Danielle Burich def. Kendra Lavallee, 6-1, 6-2 (EXB)
 
Doubles
Douglas/Long def. Ishimura/Rosette, 5-3 (unfinished)
van Heuvelen/Crawford def. Embree/Henne, 6-1
Reimchen/Huckleby def. Massereau/ Epperson, 6-2
Burich/ Bauers def. Massereau/Lavalle, 6-2 (EXB)
 
Match Notes:
Iowa: 1-0
Creighton: 0-1
Order of finish: Doubles (2,3); Singles (4,3,2,1,5,6)