Hawkeye Fan Shop — A Black & Gold Store | 24 Hawkeyes to Watch 2016-17 | Fight For Iowa | Hawk Talk Monthly — January 2018
Iowa City, Iowa – The University of Iowa women's tennis team earned its second win of its 2018 season Saturday, defeating Northern Iowa, 7-0 at the Hawkeye Tennis and Recreation Complex.  
 
The Hawkeyes nabbed the doubles point right off the bat. Senior Anastasia Reimchen and junior Adorabol Huckleby won 6-0 in a quick match against Kate Merrick and Savanna Toledo. Senior Zoe Douglas and freshman Yufei Long followed shortly after with a 6-1 victory over Gisela Kemper and Reghan Lynch.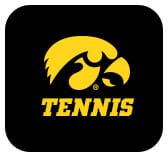 Sophomore Elise van Heuvelen and Senior Montana Crawford's match got cut short at 5-2 due to Iowa winning two of the three matches. 
 
Long got the Hawkeyes started in singles with a straight-set shutout, defeating Reghan Lynch, 6-0, 6-0. 
 
"I am very happy and very excited," said Long. "At the start of the matches I was a little nervous, but as the matches went on I tried to adjust and play on. I just took deep breaths and talked to myself positively."
 
Huckelby also won in straight sets, beating Savanna Hunt, 6-1, 6-0. Reimchen followed shortly after posting a 6-2, 6-3 win over Harri Proudfoot. 
 
Van Heuvelen earned the win in the number one spot, defeating Gisela Kemper, 6-2, 6-0. 
 
Freshman Danielle Burich made her Hawkeye debut with a win over Valentina Caro, 6-0, 6-2. 
 
Crawford closed the match with a hard-fought win, defeating Kate Merrick, 7-5, 6-3. 
  
QUOTING HEAD COACH SASHA SCHMID
"I think it was a good day It was great to start competing and I am really pleased with how they did. We are excited to build on it and we will hit the road next weekend. That will be two great matches and we have a lot to work on in practice before then" 
 
UP NEXT
The Hawkeyes return to action at 12 p.m. (CT) on Jan. 27 against the University of Montana and at 11 a.m. against Washington State in Missoula, MT.  
 
 
Iowa 7, Northern Iowa 0
Jan. 20, 2018 | 6 p.m. | Iowa City, IA | HTRC
 
Singles
Elise van Heuvelen def. Gisela Kemper, 6-2, 6-0
Yufei Long def. Reghan Lynch, 6-0, 6-0
Anastasia Reimchen def. Harri Proudfoot, 6-2, 6-3
Montana Crawford def. Kate Merrick, 7-5, 6-3
Danielle Burich def. Valentina Caro, 6-0, 6-2
Adorabol Huckleby def. Savanna Hunt, 6-1, 6-0
Danielle Bauers def. Claudia Toledo (EXB), 7-5
 
Doubles
Douglas/Long def. Kemper/Lynch, 6-1
Van Heuvelen/Crawford def. Proudfoot/Caro, 5-2 (unfinished) 
Reimchen/Huckleby def. Merrick/Toledo, 6-0
 
Match Notes:
Iowa: 2-0
Northern Iowa: 0-1
Order of finish: Doubles (3,1); Singles (2,6,3,1,5,4)