Hawkeye Fan Shop — A Black & Gold Store | 24 Hawkeyes to Watch 2017-18 | Hawk Talk Monthly — January 2018
Editor's Note: The following first appeared in the University of Iowa's Hawk Talk Daily, an e-newsletter that offers a daily look at the Iowa Hawkeyes, delivered free each morning to thousands of fans of the Hawkeyes worldwide. To receive daily news from the Iowa Hawkeyes, sign up HERE.
By SYDNEY OCKER
hawkeyesports.com
IOWA CITY, Iowa — There are eight seniors on the University of Iowa softball team, and they're taking a collaborative approach to leadership.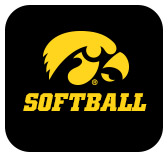 "We don't lead the team the same way other senior groups have," said Allie Wood. "We are more collaborative and take what everyone has to say into consideration.
 
"It is important for us to hear everyone's voices. We do not exclude anyone because they are younger or because of some class hierarchy. Everyone on the team represents Iowa, so everyone deserves to be heard."
 
While the team is focusing on being physically ready for the season, the seniors are helping ensure the team is mentally prepared as well.
 
"Earlier this year we had a lot of motivational speeches," said Wood. "Looking ahead to the season, we are not talking about the postseason. We have talked a lot about taking it one day at a time."
 
Wood started 50 games as Iowa's center fielder in 2017 after missing half of her sophomore season because of injury.  She was one of three Hawkeyes to play 50 or more games, where she had 30 hits, seven doubles, three home runs, and 15 RBIs.
 
"When the season started last year, I told myself that if I didn't think about the injury then it would not have an effect on me," said Wood. "I focused on the game in front of me. Mentally I turned my focus to what was happening on the field, and that was a big help during the season."
 
As she prepares for her final season as a Hawkeye, Wood continues to sharpen her mental approach so she can be ready when the games begin.
 
"Mentally my game is clicking right now, especially the logical preparation," said Wood. "When we're out in the field, I'm looking plays ahead and focusing on where everyone needs to be. That preparation has transferred to the physical side of my game — thinking about the game and visualizing it so my body is able to incorporate that in my play."
 
Wood's growth on the mental aspect has helped with her leadership.  She's able to help her younger teammates.
 
"I'm trying to be a good role model and help the younger players, especially the freshmen as they transition to life away from their homes," said Wood. "We are a family and we want everyone to feel included both on and off the field. That's what being a Hawkeye is all about."
 
Iowa opens the 2018 season in at the Mardi Gras Tournament in Lafayette, Louisiana, from Feb. 9-11.  The Hawkeyes will play five games, beginning with a Feb. 9 doubleheader against Illinois Chicago and Eastern Illinois.