Hawkeye Fan Shop — A Black & Gold Store | 24 Hawkeyes to Watch – 2017-18 | Fight For Iowa | Hawk Talk Monthly — January 2018 | Purchase Season Tickets
By JAMES ALLAN
hawkeyesports.com
IOWA CITY, Iowa — Usually when there is talk of "real feel" it involves the temperature being too cold to be outside in the elements. It was the polar opposite on Friday afternoon for the University of Iowa baseball team as it held its first official team practice of the 2018 season outside on the AstroTurf at Duane Banks Field.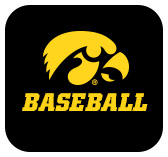 "All of us were itching to get out here to start practice and come out on the field in the winter time in 54 degree weather," said senior Austin Guzzo. "It's exciting and helps that vibe a little bit."
 
The Hawkeyes have been taking part in player-led "captains practices" since returning for the spring semester, but there was a different feeling when the players rolled out of bed Friday morning.
 
"We were excited when we got back in January and we have been doing a lot of hard work with the captain's practices, but it is awesome to get back going with the official practices and get the scrimmages in," said sophomore Kyle Crowl. "It's a beautiful day for that."
 
Even though it's day one, Guzzo believe being outside will help the team as it prepares for its season-opener, which is three weeks from today in Kissimmee, Florida.
 
"It helps our pitchers and fielders the most," said Guzzo. "It's the first time we've been able to come out here (before the season) and have a real feel before we head to Florida for the first game. It will be a huge advantage for us being out here right now and being able to do this.
 
"We'll be steps ahead going forward the next three weeks."
 
Even with Mother Nature's unpredictability, Crowl believes being outside will put the Hawkeyes an early advantage.
 
"All the southern teams are out right now, getting their work in," he said. "We're doing exactly what they're doing, so we're getting ahead of the game."
 
Iowa will scrimmage Friday and Saturday outside at Duane Banks Field before the weather is expected to turn next week.