Hawk Talk Monthly — January 2018 | Fight For Iowa | Hawkeye Fan Shop — A Black & Gold Store
Editor's Note: The following first appeared in the University of Iowa's Hawk Talk Daily, an e-newsletter that offers a daily look at the Iowa Hawkeyes, delivered free each morning to thousands of fans of the Hawkeyes worldwide. To receive daily news from the Iowa Hawkeyes, sign up HERE.
By RICK BROWN
hawkeyesports.com
 
IOWA CITY, Iowa — It was the sound that Bill Logan remembered five decades later.
A sound he had never heard on a basketball floor before.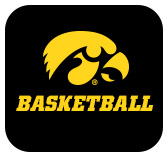 The leading scorer on the University of Iowa's 1955-56 men's basketball team, Logan recalls teammate Sharm Scheuerman setting a pick for teammate Bill Seaberg, who used it to get free from his defender and take a shot. Swat.
 
"I heard somebody hit it like a volleyball," Logan recalled.
 
That "somebody' was San Francisco center Bill Russell. The same Russell who had 26 points and 27 rebounds as his team beat the Hawkeyes in the 1956 NCAA title game, 83-71, in Evanston, Illinois. They didn't keep blocked shots back then, but Russell had a ton of those, too.
 
"Maybe he got 27 rebounds, but he must have knocked down 27 more shots and that doesn't show in the scorebook after the game," Logan said after the Hawkeyes' 17-game winning streak had fallen victim to Russell's long reach.
 
Logan, truly one of the greatest players in Iowa basketball history, passed away Thursday at 83 years of age at his home in Keokuk, where he grew up and later became a well-respected banker.
 
Logan's basketball legacy was impressive. He scored 1,188 points in three seasons as Iowa's postman. He led the Hawkeyes in scoring for three straight seasons. He played in two Final Fours, 1955 and 1956. A second-team All-American in 1955-56 as a senior, he was also a two-time first-team All-Big Ten selection. His number, 31, was retired along with those of the other starters on that 1955-56 Fabulous Five team coached by Bucky O'Connor — Scheuerman, Seaberg, Carl Cain, and Bill Schoof.
 
That's a lifetime of memories. But one stood out for Logan more than any other – playing against Russell, who would go on to lead the Boston Celtics to 11 NBA titles in his 13 seasons.
 
"He was tough, and probably the best ballplayer to come around in a long time," Logan said in a 2009 interview with the Des Moines Register.
 
Logan averaged a double-double for his three-year Iowa career, at 16.1 points and 10.6 rebounds. He averaged 14.3 points on a 1953-54 team that finished 17-5 and finished second in the Big Ten. He averaged 15.3 points on a 19-7 team in 1954-55 that won the Big Ten (11-3) and made it to the national semifinals before losing to Colorado. And he averaged 17.7 points for a 20-6 team that won the Big Ten again (13-1) and made it to the title game against San Francisco.
 
Logan scored 36 points in Iowa's national semifinal victory over Temple on March 22, 1956. That represented the most points ever scored in a Final Four game at the time. It is still a Hawkeye record for an NCAA game.  Logan made 13-of-21 field-goal attempts in that game to withstand the Owls' amazing guard duo of Hal Lear and Guy Rodgers, who combined for 60 points.
 
"We didn't figure Logan for that much," famed Temple Coach Harry Litwack told reporters after the game. "He played it pretty cute in our zone defense and got a lot of easy baskets."
 
Logan finished with 12 points and 15 rebounds against San Francisco, but Russell was too much to overcome.
 
"He's really something," Logan said.
 
Logan and teammate Cain made the All-Final Four team in 1956. Logan was drafted by the Boston Celtics and head coach Red Auerbach, and was offered a $15,000 contract.
 
"That was the going rate at the time," Logan said in 1984. "I was drafted high enough so they made an effort, and that pleased me."
 
Logan opted to play a season for an AAU team, the Denver-Chicago Truckers, while working for a bank in Denver. Banking, not basketball, would prove to be his occupation.
 
Logan was enshrined in the Iowa Varsity Club Hall of Fame in 1991. When Iowa celebrated its 100th season of basketball in 2001-02, Logan was named to the Hawkeyes' All-Century Team.
 
As president of the Iowa Bankers Association, Logan invited a special guest to speak to his group's annual gathering in Des Moines in 1985.  That special guest was Bill Russell.
 
"I think Logan could have made it in pro ball," Russell told Des Moines Register columnist Maury White during his visit.
 
Logan pursued dollars and cents instead of points and rebounds, but he was truly one of the greatest players in Iowa basketball history.