Hawkeye Fan Shop — A Black & Gold Store | 24 Hawkeyes to Watch 2016-17 | Fight For Iowa | Hawk Talk Monthly — February 2018 | North Texas & SMU Notes
By ANNE RILEY
hawkeyesports.com
IOWA CITY, Iowa — If you're a fan of tennis and haven't heard of University of Iowa freshman Yufei Long, you had better get acquainted with her.
 
The Shenzhen, China, native has not wasted time getting comfortable in black and gold.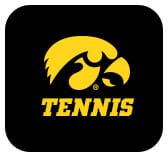 Through the first two weeks of the spring season, the Hawkeye rookie has posted a 4-0 record at the No. 3 singles position, and a 2-0 record with senior Zoe Douglas at the No. 1 doubles position. She has won 48 of 56 games in singles, 12 of 14 games in doubles, and she's just getting started.
 
"I have to keep myself healthy and confident," Long said when asked how she plans to keep her momentum moving forward. "Those things will come from training. I just need to work hard every day in practice and recover well."
 
That strategy has paid off early. When the Hawkeyes traveled to Montana to play Washington State on Jan. 28, Long delivered a 6-4, 6-1 straight-set win against the No. 109 player in the country, Tiffany Mylonas. It was Long's first win over a ranked opponent.
 
"I'm really happy because she is a very tough player," Long said. "When you're playing someone that you know is going to get every ball back, you just have to stay ready and focused in every point."
 
Eliminating distractions has been a focal point for Long since arriving on campus. She's adjusting to team tennis, a new school, and a new country. So much stimulation can be overwhelming at times, and Long credits UI head coach Sasha Schmid for helping her maintain focus, and keep her cool.
 
"Sasha instructs me within the matches and always tells me to not play a point with frustration," said Long. "That helps me to adjust my anger and focus."
 
From the coach's point of view, Schmid said she's been impressed with Long's composure and willingness to respond.
 
"I remind her to stay calm and focused before each point because she plays a very physical tennis game and often has grueling points," Schmid said. "If a hard fought point doesn't go her way, she can't allow frustration and impatience to set in, she needs to reset to play the next point just as hard. That takes a lot of discipline and mental toughness."
 
Long expects big gains from herself this season, and the Hawkeyes are not afraid to set high expectations for the freshmen. Last season, they were led by now-sophomore Elise van Heuvelen, a 2017 first team All-Big Ten performer and the conference's reigning freshman of the year.
 
"Having these teammates inspires me," Long said. "I have learned that we are a great team with a lot of talent, and if we believe in ourselves and fight through every battle we are going to do well."
 
The Hawkeyes (3-1) return to the court Saturday and Sunday with road matches against North Texas and SMU. Iowa returns home Feb. 25 to host Marquette at 10 a.m. (CT).