Hawkeye Fan Shop — A Black & Gold Store | Fight For Iowa | Hawk Talk Monthly — February 2018 | Game Notes (PDF)
| | |
| --- | --- |
| Date: | Feb. 23-25, 2018 |
| Location: | New Orleans, La. | Maestri Field at First NBC Ballpark |
| Game Notes: | IOWA | Virginia Tech | Ball State | New Orleans |
| Statistics | IOWA | Virginia Tech | Ball State | New Orleans |
| | |
| Radio/Streaming: | Hawkeye Radio Network | Hawkeye All-Access ($) |
| Live Stats: | Game 1 | Game 2 | Game 3 |
| Television/Video Streaming: | www.unoprivateers.com  ($) |
| | |
| Game 1 | Feb. 23 | 12:30 p.m. (CT)  | |
| Pitching Matchup:  | Iowa: LHP Nick Allgeyer (0-0, 0.00 ERA) |
| | Va. Tech: RHP Connor Coward (0-0, 3.60 ERA) |
| Game 2 | Feb. 24 | 6 p.m. (CT) | |
| Pitching Matchup:  | Iowa: RHP Brady Schanuel (1-0, 0.00 ERA) |
| | BSU: RHP Kyle Nicolas (0-0, 0.00 ERA) |
| Game 3 | Feb. 25 | 1 p.m. (CT) | |
| Pitching Matchup:  | Iowa: RHP Cole McDonald (0-0, 15.00 ERA)  |
| | UNO: RHP Brayson Smith (0-0, 6.00 ERA) or RHP Eric Orze (0-1, 6.00 ERA) |
THIS WEEK
The University of Iowa baseball team heads to New Orleans for the All-State Sugar Bowl Baseball Classic from Feb. 23-25.  The Hawkeyes face off against ACC foe Virginia Tech on Friday at 12:30 p.m. (CT) before facing Ball State at 6 p.m. Saturday and host New Orleans on Sunday at 1 p.m. 
    All three games will be held at Maestri Field at First NBC Ballpark.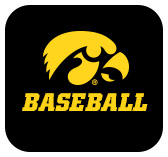 FOLLOW ALONG
• All three games will be streamed online at www.unoprivateers.com.  It is a paid subscription service.
• All Iowa games will also be available via the Hawkeye Radio Network with Zach Mackey on the call.  The games can be heard on Hawkeye All-Access and on select stations across the state, including WMT-AM 600 (no Sundays) in Cedar Rapids, WDBQ-FM 107.5 (all games) in Dubuque, KXIC-AM 800  in Iowa City, KJAN-AM/FM 1220 and 101.1 in Atlantic, KDEC-FM 100.5 in Decorah, and KKFD-FM 95.9 in Fairfield.
• Live statistics are available on hawkeyesports.com and fans can follow along via social media at www.twitter.com/UIBaseball.
LEADING OFF
• Iowa is receiving votes in the USBWA top 25 rankings after starting the 2018 season with a 3-0 record.  It is the first 3-0 start during Rick Heller's Iowa tenure and the Hawkeyes' first 3-0 start since 2006.
• The Hawkeyes are second in the Big Ten in both hitting and pitching through the opening weekend of the 2018 season.  Iowa has a .301 team batting average and a 2.00 team ERA.  Purdue leads both categories with a .344 average and a 1.33 ERA.
• Junior outfielder Robert Neustrom was named the preseason Big Ten Player of the Year by both Perfect Game and Baseball America. Neustrom and junior Brady Schanuel were named to PG's preseason all-conference team.
• The Hawkeyes were picked to finish fourth in the Big Ten by Perfect Game, fifth by D1Baseball.com, and sixth in the Big Ten Preseason Coaches poll.
• Iowa has won 140 games over the past four seasons under head coach Rick Heller — the best four-year stretch in school history.  The Hawkeyes have advanced to NCAA Regional play in two of the last three seasons.
• The Hawkeyes return two All-Big Ten selections — Neustrom and Tyler Cropley — and Collegiate Baseball Freshman All-Americans Kyle Shimp and Ben Norman.
• Iowa will play 13 games against five 2017 NCAA Regional teams this season (vs. Indiana, vs. Michigan, vs. Oklahoma State, at Nebraska, and vs. Missouri State).
• The Hawkeyes will play 27 games at Duane Banks Field during the 2018 season.  Iowa went 19-4 at Banks Field last season, improving the team's record to 52-14 at home since the start of the 2015 season. 
QUICK HITTERS
• The Hawkeyes are 3-0 for the first time since 2006 when they opened the season with victories over Austin Peay, Illinois State, and Dayton in Clarksville, Tennessee.
• Friday's game is Iowa's first against an ACC opponent since 2012 when it also faced Virginia Tech.
• Sophomores Grant Judkins and Ben Norman have reached base in nine straight games dating back to last season.  Junior Mitchell Boe has a team-best six-game hitting streak dating back to 2017, while Matt Hoeg has hit safely in five straight contests.
• Iowa hit two home runs during the Diamond 9 Sunshine State Classic with the two blasts coming from the middle of the order.  Robert Neustrom hit his 11th career home run in the season-opener against Toledo, while Tyler Cropley hit a two-run shot against Oakland — his 10th career blast.
• Senior Tyler Cropley and juniors Robert Neustrom and Zach Daniels were named to the Big Ten Preseason Honors List.  
• Iowa was ranked 44th in the College Sports Madness preseason rankings.  The Hawkeyes were also receiving votes in the USBWA preseason rankings.
ABOUT VIRGINIA TECH
• The Hokies went 1-3 during their opening weekend in South Carolina.  The lone win was a 14-6 drubbing of Oklahoma.  Virginia Tech lost games to Coastal Carolina, No. 17 South Alabama, and Kansas State.
• Virginia Tech is hitting .279 as a team and is averaging 6.5 runs per game.  Tom Stoffel is leading the way with a .421 average, while Luke Horanski has a team-best six RBIs.  
• The Hokies pitching staff was roughed up in four games, posting a 7.41 ERA.  The hurlers gave up 37 hits in 34 innings and had 40 strikeouts to 32 walks.  Dylan Hall posted the lone win, tossing five innings of one-run ball.  He allowed six hits and fanned four.
• Virginia Tech will start Connor Coward (0-0, 3.60 ERA) on Friday against Iowa.  The senior right-hander allowed three runs (two earned) on two hits and fanned seven (but issued six walks) in the Hokies' 7-5 loss to No. 17 South Alabama on Feb. 17.
• The Hokies had two players — Tom Stoffel and Sam Fragale — named preseason All-Americans.
• Virginia Tech is coached by first-year head coach John Szefc.  Szefc was previously head coach at Maryland, where he went 2-6 against the Hawkeyes.
ABOUT BALL STATE
• The Cardinals split their opening weekend, taking two games from UMass Lowell and dropping a pair of contests to Morehead State.  
• Ball State averages just 3.5 runs per game and is hitting .239 as a team.  Outside of William Baker (.625) and Griffin Hulecki (.375), no other player is hitting above .222.  Baker is the reigning MAC Player of the Week.
• Ball State has posted a 3.25 team ERA and have 45 strikeouts in 36 innings. RHP Kyle Nicholas (0-0, 0.00 ERA) will start against Iowa.   He allowed one hit over five innings and struck out nine in the Cardinal's 4-3 victory over UMass Lowell on Feb. 17.
ABOUT NEW ORLEANS
• The Privateers are 2-3 overall after dropping a pair of midweek games against Jackson State and nationally-ranked LSU.  New Orleans' two victories came against UIC in extra innings and Southern last weekend at the Andre Dawson Classic.
• UNO is hitting .260 as a team and is averaging six runs per game.  Darren Willis and Owen Magee lead the team with .389 and .368 averages, respectively.  Cody Ducote has a team-high six RBIs.
• On the bump, the Privateers have a 4.80 team ERA and they have 48 strikeouts to 16 walks over 45 innings.  Opponents are hitting .256.
• UNO will start either junior RHP Brayson Smith (0-0, 6.00 ERA) or junior RHP Eric Orze (0-1, 6.00 ERA) on Sunday against Iowa.  
SERIES RESULTS
• Iowa is 2-2 all-time against Virginia Tech with the last meeting coming in 2012 — a 4-3 Hokie win in Myrtle Beach, South Carolina.  The Hawkeyes won 2-of-3 meetings in 1986.
• The Hawkeyes are 1-0 all-time against Ball State, defeating the Cardinals, 16-6, in the Snowbird Classic in Port Charlotte, Florida, in 2014.  That was Rick Heller's first season.
• Iowa is 2-1 all-time against New Orleans, playing all three games during the 1975 season.  
NEW YEAR, SAME HAWKEYES
The Hawkeyes rallied from a two-run, eighth-inning deficit to defeat Toledo, 4-3, in the season-opener on Feb. 16 in Kissimmee, Florida.  Ben Norman's two-run single in the ninth gave Iowa a walk-off victory — its fifth walk-off in two seasons.
• Iowa made a habit of fighting back in 2017 as 21 of their 39 victories resulted in come-from-behind wins.  The Hawkeyes have two come-from-behind victories in three games this season.
WHO'S IN LEFT?
The Hawkeyes utilized three different left fielders during the opening weekend.  Tanner Wetrich started the opener, Matt Hoeg was in the outfield in game two, and Ben Norman slide over from center to left in game three.  
MR. UTILITY
Senior Matt Hoeg started games at first base and in left field during Iowa's season-opening weekend in Florida.  The Waukee, Iowa, native had five hits in eight at-bats to post a team-best .625 batting average. He also scored three runs.
ZO STEPS IN AT 3RD
Sophomore Lorenzo Elion had a successful debut weekend as a Hawkeye, hitting safely in all three games, including posting a pair of multi-hit contests.  The Chicago native hit .500 and had a pair of stolen bases.  The .500 average is fourth-best in the Big Ten.
ON THE BUMP
• Iowa's relievers were superb in Florida, posting a 0.59 ERA and posting two victories in the opening weekend.  
• The Hawkeye pitching staff had 28 strikeouts in three games, but issued 21 walks.  The staff was playing with fire as opponents stranded 35 base runners in the three games.
• Sophomore Grant Leonard emerged in two appearances. The right-hander got out of a bases loaded, one-out, eighth-inning jam in Iowa's come-from-behind 4-3 victory over Toledo.  The victory was the first of his career.
• Senior Nick Nelsen recorded his first career win, fanning four in 2 2/3 innings and allowing a single hit against Oakland (2/17).  
• Redshirt sophomore Kyle Shimp earned his first career save in Iowa's 4-1 victory over Old Dominion.
REDSHIRT JUNIOR NICK ALLGEYER…
• Made his first career Friday start — his second career start — against Toledo (2/16) — allowing three unearned runs over five innings and fanning a career-high seven batters.
• Missed the 2017 season recovering from Tommy John surgery suffered during the fall of 2016.
JUNIOR BRADY SCHANUEL…
• Will start Saturday against Ball State after starting Sunday during the opening weekend.
• Earned his first career victory against Old Dominion (2/18), allowing two hits and fanning four in 3 2/3 innings… was on a predetermined 60-pitch pitch count.
• Two-time MLB Draft pick — selected in 20th round by Philadelphia in 2017 and 36th round by Oakland in 2015.
• Two-time All-American at Parkland College in Illinois… went 20-4 with 161 strikeouts in 164 innings.
30 X 4
Iowa posted its fourth straight 30-win season in 2017.  The program hasn't enjoyed a better stretch since posting seven consecutive 30 win campaigns from 1979-85.
• Iowa won 39 games last season — the fifth-most in a single season in program history.  The Hawkeyes won 41 games in 2015, the second-most wins in program history. 
   
STATISTICAL BREAKDOWN
It's tough to envision the Iowa lineup without All-America first baseman Jake Adams (.335, 29 HR, 55 R, 14 2B, 72 RBIs) and All-Big Ten shortstop Mason McCoy (.328, 83 H, 18 2B, 5 HR, 55 R, 34 RBIs), but offensively, the Hawkeyes have a lot returning in 2018.
• Iowa has six starters, including its designated hitter, back from an offense that ranked in the top three in the Big Ten in nine categories.
• The Hawkeyes have 70.9 percent (421 of 594) of their hits, 69.9 percent (79 of 113) of their doubles, 67.6 (234 of 346) of their RBIs, 66.4 percent (250 of 376) of their runs, and 50.1 percent (36 of 71) of their home runs back in 2018.  Iowa also has 80 percent of its stolen bases back (52 of 65).
• On the mound, Iowa has seven pitchers returning, but it will be a new-look staff under first-year pitching coach Desi Druschel.  The Hawkeyes bring back 43.6 percent (17 of 39) of their wins, 40 percent (6 of 15) of their saves, 39.8 percent (187 of 470) of their strikeouts, and 36.8 percent (200 of 543 2/3) of their innings pitched.
ROSTER BREAKDOWN
• Of Iowa's 33-man roster, 10 are freshman, eight are sophomores, 11 are juniors, and four are seniors.
• Iowa has 20 Iowa natives on the roster — the most of any state.  Eight Hawkeyes hail from Illinois, two from Missouri, and one from Indiana, South Dakota, and Canada.
• The Hawkeyes have two sets of junior college teammates on the 2018 roster.  Tyler Cropley and Matt Hoeg were teammates for two seasons at Iowa Western Community College, while Chris Whelan and Brady Schanuel were teammates in 2016 at Parkland Community College.
• Iowa has two sets of high school teammates; Zach Daniels and Matt Berst (Cedar Rapids Kennedy High School) and Connor Lindaman and Trenton Wallace (Davenport Assumption High School).
TEAM CAPTAINS
Iowa's team captains for the 2018 season are senior Tyler Cropley, redshirt junior Nick Allgeyer, junior Robert Neustrom, and redshirt sophomore Kyle Shimp. 
FOLLOW THE HAWKEYES
Iowa baseball fans can follow the Hawkeyes on Facebook/iowabaseball, Twitter: @UIBaseball, and Instagram/UIBaseball in addition to coverage on hawkeyesports.com.
 
SEASON TICKETS ON SALE
Season tickets for the 2018 Iowa home schedule are on sale now through the UI Athletics Ticket Office online at hawkeyesports.com or at 800-IA-HAWKS. Reserved and general admission adult tickets are $75, while general admission youth tickets are $40. Fans can also purchase a "30-block" season ticket, priced at $99, where tickets can be used at any game or combination of games throughout the season. Iowa will play 27 home games in 2018.