Hawk Talk Monthly — February 2018 | Fight For Iowa | Hawkeye Fan Shop — A Black & Gold Store
Editor's Note: The following first appeared in the University of Iowa's Hawk Talk Daily, an e-newsletter that offers a daily look at the Iowa Hawkeyes, delivered free each morning to thousands of fans of the Hawkeyes worldwide. To receive daily news from the Iowa Hawkeyes, sign up HERE.
By DARREN MILLER
hawkeyesports.com
IOWA CITY, Iowa — Even in his senior season, University of Iowa men's basketball student-athlete Charlie Rose strolls across campus in anonymity. There are never interruptions when he attends class or grabs a bite to eat after games.
 
In fact, one of the most frequent words he hears is really. As in, Really? It is a typical, stunned response when someone discovers that the seldom-used Rose is a member of the Hawkeye men's basketball team.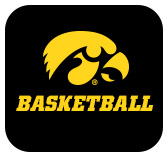 "If I wore street clothes, no one would know I was on the team," Rose said. "I can go to class, go to restaurants, go where I need to go and not get noticed, unless I wanted to. Then I could go with one of my friends who is 6-foot-9 and huge."
 
Rose will be noticed Sunday when Iowa hosts Northwestern in the final home game of the season. He will be recognized pregame with Dom Uhl during a Senior Day salute.
 
The Hawkeyes have played 98 games in three seasons with Rose on the roster; he has seen action in 22 contests. In a sport defined and driven by statistics, his 22-percent participation rate doesn't bode well for him making an appearance against the Wildcats.
 
"Hopefully if we do well enough, I'll be able to play, even if it is for a couple of seconds or a couple minutes," Rose said. "But once it comes to game day, I'm an on-the-bench vocal leader, trying to keep everyone's sprits up and cheer them on."
 
There have been seven times this season when Rose has played. In the first six appearances, Iowa won by an average of 30.5 points per game.
 
Even if Rose, a 6-foot-4, 190-pound guard, doesn't set foot of Mediacom Court during Sunday's contest, it will still be emotional. His parents are making the trip from Elmhust, Illinois, joined by both his sisters.
 
"It will be a special day for my whole family to be able to see me honored," Rose said. "It is going to be weird, being my last game in Carver-Hawkeye Arena after all these years, but it will be nice to have all my family there; both my sisters are coming, which is important to me."
 
So how did a football-basketball star from York High School in Elmhurst find his way to Iowa and why did he want to spend four years incognito? First, there is family history: a set of grandparents attended Iowa and a grandfather played football for the Hawkeyes in the 1940s. Then there is Iowa's top-notch academics.
 
"The Big Ten environment was huge. I wanted to go to a big school and Iowa had a strong business school," said Rose, a marketing major who is on the Fall 2017 Dean's List. "I wanted to study business and this campus environment is awesome. It is a Big Ten school with a smaller feel and it felt perfect when I came here."
 
A non-scholarship walk-on, Rose completed a successful tryout before the 2014-15 season. He played in eight games, making his only 3-point attempt against North Dakota State and handing out an assist against Davidson in the NCAA Tournament.
 
"That was my highlight," Rose said of his assisted 3-pointer to Kyle Denning during an 83-52 win. "Playing in an NCAA Tournament was always my dream and being able to do that was awesome."
 
If the Davidson game was the highest of highs, what happened next was the lowest of lows.
 
Rose was crushed the following season when his roster spot was not available. He took time away from the game, then took his frustration out on opponents in a University of Iowa intramural league. Between classes and after pick-up games, Rose emailed Hawkeye assistant coaches about the possibility of a return.
 
"That whole spring semester I would continuously ask, 'Hey, any open spots next year? I would love to try to come back,'" Rose said. "It took a month or two into school that fall and I had another tryout with even more kids. Luckily I beat them out that time, too."
 
The No. 1 Hawkeye jersey Rose wore as a freshman switched to the No. 11 he has worn as a junior and senior. It was a euphoric return to the court for Rose after being named a two-time all-area selection in high school and getting a taste of the Division I life in 2014-15. While watching from afar as a sophomore, he knew he had more to give over the next two years.
 
"I didn't want to play one year and be done," Rose said. "I knew I could finish an entire career. It's not four years like most people have, but three years was perfect for me."
 
Rose is curious to see what life is like without basketball. But for now he continues to rise early and stay up late to balance school and sport. In the remaining practices, he will emulate opponents and push Iowa's starters, something he has done for three seasons.
 
"I knew that most of my work would mean my game days were at practice," Rose said. "But just being able to travel to all these arenas I watched on TV with my dad and to have a court-side view — I know my role and I love my role. It has been fun."
 
Maybe, just maybe, if Rose sees action on Senior Day, will he fire a shot?
 
"Oh, I have to," he said.