Hawkeye Fan Shop — A Black & Gold Store | 24 Hawkeyes to Watch 2017-18 | Hawk Talk Monthly — February 2018
Editor's Note: The following first appeared in the University of Iowa's Hawk Talk Daily, an e-newsletter that offers a daily look at the Iowa Hawkeyes, delivered free each morning to thousands of fans of the Hawkeyes worldwide. To receive daily news from the Iowa Hawkeyes, sign up HERE.
By JACK ROSSI
hawkeyesports.com
IOWA CITY, Iowa — With the highest point total the University of Iowa women's track and field team has had since 2007, it was the trio of Jahisha Thomas, Briana Guillory, and Brittany Brown who made their presences felt at the Big Ten Indoor Championships.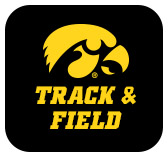 Thomas, Guillory, and Brown accounted for four Big Ten titles in Geneva, Ohio, and 58 of Iowa's 74 team points with all three scoring points in multiple events. The four champions are the most in program history.
 
After winning Iowa's first long jump indoor championship in school history, Thomas returned on Saturday for a shot at winning the triple jump title and sweeping the horizontal jumps.
 
"I was always thinking double the whole time," Thomas said. "I was thinking it into existence. I was training like I was going to win both."
 
Thomas extended her own school record on her final jump in the finals with a mark of 13.22 meters (43 feet, 4.5 inches), but was unaware that she had all but locked up her second gold of the weekend following that attempt.
 
"Coach (Clive) Roberts said I left the door wide open so I thought somebody passed me," Thomas said. "I had my game face on the entire time. I was the penultimate jumper, so I had to give all I had and couldn't leave anything on the table, which makes sense why he said it."
 
Brown entered the weekend with the biggest target on her back. The 2017 indoor and outdoor Big Ten 200 meter champion had only run one 200 meter race before the weekend and had an rollercoaster season up until the conference meet.
 
"This indoor season has been tough and I have been battling stuff off the track," Brown said. "I am glad to defend my title."
 
But in the end, it was Guillory who gave Brown the biggest challenge to defend her title. Guillory finished the 200 meters in 23.22, just .02 behind Brown's 23.20 for her third Big Ten championship.
As close as the 200 meters was, the 400 meters was the opposite with Guillory cruising past the field for a personal best 52.08, the fifth-fastest time in the country. This was the culmination of a long journey for her in the event.
 
"I was fighting myself freshman year and sophomore year," Guillory said. "I did not accept the 400. It was always a training thing to me, but now I realize that it is something I am strong enough to do."
 
After a weekend of racing preliminaries and finals, the final event, the 1,600-meter relay, tested everybody's endurance. Guillory and Brown joined Sarah Plock and Sheridan Champe to run the second-fastest time in school history at 3:33.31 and finished third.
 
"My old coach said pain and fatigue will make cowards of us all," Guillory said. "That is something you always have to remember going into the 4×400 because I am tired and I am feeling all of Friday and today, but I know that my teammates are going to go out and do what they can for me and I need to do the same for them."
 
While the Big Ten season is over, Guillory, Brown, and Thomas' indoor season continues at the NCAA Indoor Championships in College Station, Texas, on March 9-10.