Hawkeye Fan Shop — A Black & Gold Store | Fight For Iowa | Hawk Talk Monthly — February | Social Media Reaction
Editor's Note: The following first appeared in the University of Iowa's Hawk Talk Daily, an e-newsletter that offers a daily look at the Iowa Hawkeyes, delivered free each morning to thousands of fans of the Hawkeyes worldwide. To receive daily news from the Iowa Hawkeyes, sign up HERE.
By RICK BROWN
hawkeyesports.com
 
IOWA CITY, Iowa — Jordan Bohannon's streak of consecutive made free throws grew to 30 in a victory against Minnesota on Jan. 30.
 
The sophomore guard on the University of Iowa men's basketball team needed four more to tie the late Chris Street's school record. And Mike Street, Chris's dad, had this thought: Would Jordan intentionally miss a free throw to keep his son's record alive?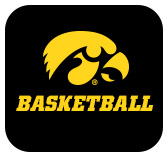 Chris Street made two free throws in the first half of a 65-56 loss at Duke on Jan, 16, 1993, to erase Ben McGilmer's school record of 33 straight . And Chris, who told Iowa assistant coach Gary Close that he was not going to miss a free throw in Big Ten play all season, never did.
 
Tragically, he was killed in an automobile accident three days after he set the record at Duke. His free-throw streak will be open-ended for eternity.
 
Which takes us to Sunday night at Carver-Hawkeye Arena, where Chris Street had played his way into the hearts of Iowa basketball fans. Bohannon, with his streak up to 32 consecutive makes, was fouled with 1:12 remaining in the first half of the regular-season finale against Northwestern. He made them both, to join Street in the record books.
 
Mike and his wife, Patty, noticed that their grandson, Kaden Christopher Stursma, had tears in his eyes after Bohannon made them.
 
When Jordan was fouled with 2:15 remaining in the game and Iowa holding on to a 73-65 lead, Betsy Stursma scrambled to take a picture of Bohannon replacing her brother as the record holder.
 
And then something unexpected happened. Bohannon missed the free throw.
 
Did he miss it on purpose? At a point in the game where victory still hung in the balance? Bohannon answered that question when he was fouled with 50 seconds to play. He walked to the line, touched his chest over his heart and pointed skyward.
 
That was for you, Chris.
 
"I thought it was awesome," Iowa Coach Fran McCaffery said.
 
Bohannon had told his brother, Zach, and other members of his family what he planned to do weeks before it happened. After getting to 30 straight, he didn't attempt a free throw for four consecutive games. After making his only two attempts against Indiana Feb. 17, he didn't get to the line at Minnesota Wednesday.
 
"It was really stressing me out," Bohannon said. "I'm glad it ended the way it was supposed to."
 
There was also family pride on the line. Jordan's brother, Jason, holds Wisconsin's school record for consecutive made free throws with 39 (in 2008). But even sibling rivalry didn't stand in the way.
 
"I know where the record deserves to stand, and that's in Chris's name," Bohannon said.
 
After the 77-70 victory, Jordan was greeted by Mike and Patty Street as he walked off Mediacom Court. But the Streets had no idea Bohannon had missed on purpose.
 
"Oh, gosh, that tells you the kind of person he is," Patty said. "I mean, he has to have so much humbleness and kindness in there, just to think about Christopher. Such a kind heart."
 
Mike said Chris would have disapproved of the intentional miss.
 
"He would have said, 'You should have gone for that. I'm not special enough for that,'" Mike said.
 
Bohannon admitted the timing wasn't the greatest, because those free throws represented some needed points at the time.
 
"I trusted God's plan," Bohannon said. "Chris was looking down on us and he wasn't going to let that happen. I missed, and we got the ball right back (on a Nicholas Baer steal). It just worked out like it should have."
 
Northwestern head coach Chris Collins added another twist to Sunday's story. He nearly picked Iowa out of high school, until taking a late offer from Duke. When Collins made his recruiting visit to Iowa, Street was his host and the two hit it off. Collins also played in the game when Street set the Iowa record.
 
"Hearing that make me feel good, because I know what a special guy Chris was," Collins said when told Bohannon had missed the free throw on purpose. "So that was a pretty cool thing. Bravo to Jordan for doing that."
 
Sunday's moment reminded me of a story involving another great Iowa star who died in the prime of his life, Nile Kinnick.
 
Kevonte Martin-Manley returned two punts for Iowa touchdowns in a Sept. 21, 2013, football game against Western Michigan, and had chalked up 184 return yards by halftime.  He needed just 18 yards to erase Kinnick's school record of 201 yards against Indiana on his way to the 1939 Heisman Trophy.
 
But Iowa head coach Kirk Ferentz took care of that. He didn't let Martin-Manley return any more punts to make sure Kinnick remained the record holder.
 
"With all due respect to Kevonte, I think it's OK if that one stayed right where it's at," Ferentz said after the game.
 
So what will Bohannon do if he gets a chance to set the record later in his career?
 
"I can always have a second chance at it, there's still a lot of basketball left," Jordan said. "So we'll see."
 
Mike Street has some advice for Bohannon.
 
"Thanks Jordan, but by golly, the next time you get up there, just go on," Mike said. "We've had our time with it. Let (Jordan) have his time because I don't know who else I'd want to break it."