Hawkeye Fan Shop — A Black & Gold Store | 24 Hawkeyes to Watch — 2017-18 Season | Hawk Talk Monthly — February
IOWA CITY, Iowa — University of Iowa volleyball player Brie Orr will try out for the U.S. Women's National Team at the U.S. Olympic Training Center in Colorado Springs, Colorado, on Friday-Sunday.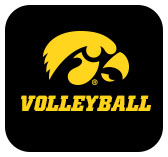 Orr played in all 33 matches as a freshman. As the Hawkeye setter, she had three matches with 50 or more assists, 13 matches with 40-or-more assists, and 23 matches with 30-or-more assists. Orr led Iowa with 1,201 assists and chipped in 99 kills, 65 blocks, and 10 aces.
 
Before Orr boards the plane, hawkeyesports.com talks to her about her preparation for the tryouts.
 
Q: What have you been doing to prepare for these tryouts?
A: Our lifting, conditioning, and individual practices have been getting us ready for the try out. We want to be able to compete to the best of our ability.
 
Q: What are you most excited about for these tryouts?
A: I'm most excited about seeing girls I used to play with and against in club, and also being able to play with and against girls from different conferences.
 
Q: What is it like being able to represent the University of Iowa at the Team USA Volleyball tryouts?
A: It's a great feeling to represent the University of Iowa anywhere, and I can't wait for us to show Colorado Springs what we have to offer.
 
Q: Now that you have already been to these tryouts, how are you more confident in returning to Colorado?
A: I'm more confident with going this year because I'll know more girls that will be at the tryouts. Having a good connection with girls on your court will always help you do better in the long run.
 
Q: What have you been doing to help prepare Halle for the tryouts?
A: I've tried to let her know that it's a really great experience and that the nerves go away right when you start playing.
 
Q: What advice do you have for younger volleyball players who hope to play in college and try out for the national team someday?
A: Always continue to work your hardest to get better every day and never give up on your dreams.