Hawkeye Fan Shop — A Black & Gold Store | Fight For Iowa | Hawk Talk Monthly — February
Editor's Note: The following first appeared in the University of Iowa's Hawk Talk Daily, an e-newsletter that offers a daily look at the Iowa Hawkeyes, delivered free each morning to thousands of fans of the Hawkeyes worldwide. To receive daily news from the Iowa Hawkeyes, sign up HERE.
By JAMES ALLAN
hawkeyesports.com
 
NEW YORK — The odds of winning the Big Ten Tournament aren't in the University of Iowa men's basketball team's favor, but sophomore Jordan Bohannon's response is who cares.
 
The Hawkeyes open postseason play Wednesday as the No. 12 seed, facing off against 13th-seeded Illinois.  The winner will play fifth-seeded Michigan on Thursday and will need to win five games in five days to keep their season alive.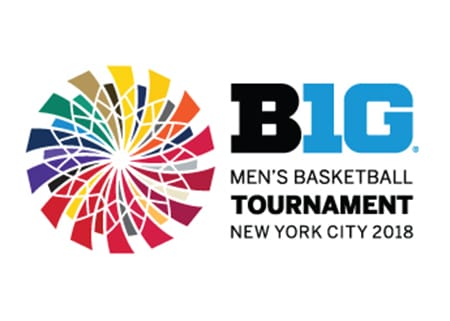 "I texted our group chat and I sent them a picture of the odds of us winning," Bohannon said Monday. "I was like, screw it, just play all out. We have no pressure on us. Why don't we win five in a row?  Who cares?"
 
There has been only one team to pull off the five in five-day feat.  When Bohannon was 14, Connecticut won the 2011 Big East Tournament at Madison Square Garden. The Huskies rode that momentum to the NCA title fueled by guard Kemba Walker.
 
"That was special," said Bohannon. "I was watching some videos on it on YouTube, giving myself some motivation. Obviously, it can be done and we're not going to rule that out. 
 
"Knowing what we're capable of doing, we haven't really put anything together this season. What better way to do it than Madison Square Garden and trying to get an NCAA bid."
 
The Hawkeyes head to "The World's Most Famous Arena" with momentum after defeating Northwestern, 77-70, on Sunday in their regular-season finale. 
 
"We showed what we were capable of (against Northwestern) on both ends of the floor," said Bohannon. "That was big for us to be able to get some stops on defense and we got going on offense as well. We got momentum going into Madison Square Garden. That was huge."
 
Iowa defeated Illinois, 104-97, on Jan. 11 in Champaign in a game where the Hawkeyes trailed by 20 points late in the first half.  The rally was the third-largest comeback in school history.  The Fighting Illini finished the regular season at 14-17 overall and 4-14 in league play.
 
"They're one of the best bottom teams in the country from a record standpoint and how hard they play," said Bohannon. "They deny everything and they're up into us. It should be a tough challenge because we know they don't have a lot of pressure on them either.
 
"They're going to come out and attack and we have to be ready for that."
 
The Hawkeyes know they need five victories to continue on with their season, but their approach has to be one game at a time.
 
"No one expects it to happen," said freshman Luka Garza of the Hawkeyes making a run. "We have confidence in ourselves, we know we can do it.  We know what we're capable of and we're going to try and play as hard as we can.
 
"We don't want this to be our last game, we want to keep playing.  We're going to leave it all out on the court and see what happens every game and every step of the way."
 
"I'm going to do whatever it takes to try to get five wins, but it's going to take one win at a time," said Bohannon. "To win five, you have to win the first one, so we're going to have to take care of Illinois first."
 
Wednesday's game will begin at 4:30 p.m. (CT) and it will be televised on BTN with Kevin Kuglar, Stephen Bardo, and Mike Hall on the call.