Hawkeye Fan Shop — A Black & Gold Store | 24 Hawkeyes to Watch – 2017-18 | Hawk Talk Monthly — February
IOWA CITY, Iowa — University of Iowa volleyball player Kelsey O'Neill will try out for the U.S. Women's National Team at the U.S. Olympic Training Center in Colorado Springs, Colorado, on Friday-Sunday.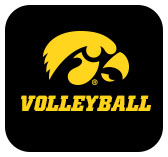 O'Neill played in 32 matches for Iowa. She had 185 kills and ranked second on the team with 106 blocks. In Big Ten action, the senior tallied 115 kills and 68 blocks.
 
Before O'Neill boards the plane, hawkeyesports.com talks to her about her preparation for the tryouts.
 
Q: What have you been doing to prepare for these tryouts?
A: I've been keeping up with the team workouts and training a few times a week in the gym. The biggest thing for me is mental preparation and just trying to stay calm going into the weekend.
 
Q: What are you most excited about for these tryouts?
A: I'm most excited for the competition. Every athlete at this tryout is great, which just pushes you to work even harder. I love the high level of play that the girls bring to every session throughout the weekend.
 
Q: What is it like being able to represent the University of Iowa at the Team USA Volleyball tryouts?
A: It's really special to be able to represent the University of Iowa at the tryouts because you are working hard to do well for more than just yourself. Iowa has such a supportive community that when going to these tryouts, you want to work hard for the other girls on the team, our coaches and all of our fans.
 
Q: Now that you have already been to these tryouts, how are you more confident in returning to Colorado?
A: I wouldn't necessarily say that I'm more confident because the competition just gets tougher each year. Knowing what each session is going to look like does help me relax a bit because it's one less thing on your mind.
 
Q: What advice do you have for younger volleyball players who hope to play in college and try out for the national team someday?
A: My advice would be to focus on your own game. It's so easy to get wrapped up in how everyone around you is doing, but you are the one fighting for your spot. I would also tell young hopefuls to not get discouraged if they aren't playing at the level they want to be at. I didn't make the collegiate team the first year I tried out, but that only made me want it more the next year.