Hawkeye Fan Shop — A Black & Gold Store | 24 Hawkeyes to Watch – 2017-18 | Hawk Talk Monthly — February 2018 | 2018 UWW World Cup | VIDEO — A.J. Edds
Editor's Note: The following first appeared in the University of Iowa's Hawk Talk Daily, an e-newsletter that offers a daily look at the Iowa Hawkeyes, delivered free each morning to thousands of fans of the Hawkeyes worldwide. To receive daily news from the Iowa Hawkeyes, sign up HERE.
By DARREN MILLER
hawkeyesports.com
EAST LANSING, Mich. — A.J. Edds has lived in the footprint of the Big Ten Conference most of his life.
 
He grew up in Greenwood, Indiana, 20 minutes south of Indianapolis. He was a student-athlete at the University of Iowa, playing football from 2006-09. After a five-year stint in the National Football League, Edds is back in the Big Ten Conference…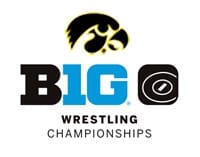 …as assistant director of sports administration, serving as liaison for field hockey, women's swimming and diving, men's golf, and wrestling. He also supervises the conference tournament for men's ice hockey.
 
"It took a little time to figure out exactly what I wanted to get into, but when this opportunity at the (Big Ten Conference) materialized, it was something that was too good to pass on," Edds said.
 
Edds spent the past weekend embedded in the Breslin Student Events Center for the Big Ten Wrestling Championships on the campus of Michigan State University. It was a job-shadow of sorts for Edds, who is learning the ropes about conference wrestling from Kerry Kenny, who has been promoted to assistant commissioner, public affairs.
 
"I'm getting up to speed with the coaching group, administrators, the operations of the tournament itself," Edds said. "When the time is right, I will be the person on the ground representing the conference at the tournament. I will work along with the event staff and host institution, be a resource for the coaches, and help disseminate information as needed. I will try to be that versatile, multi-tool guy to make sure everything runs smoothly."
 
Edds earned a degree in management from the University of Iowa before embarking on a professional football career with the Dolphins, Patriots, Colts, Jets, and Jaguars from 2010-15.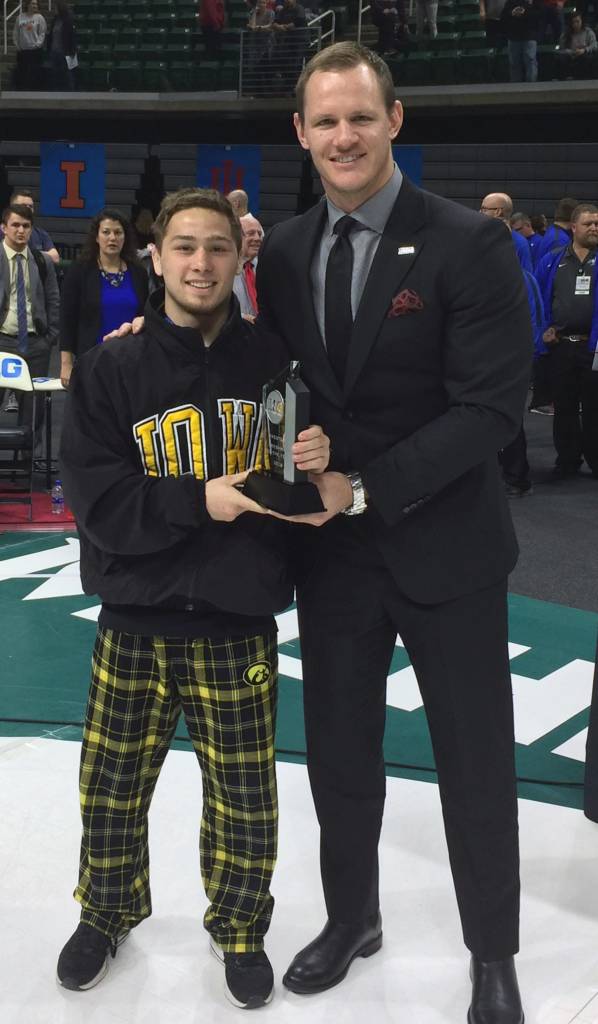 "I tricked the NFL for about five years into keeping me around," Edds joked. "A slow, washed-up guy only lasts so long in the NFL."
 
Edds was part of a Hawkeye football metamorphosis that went from back-to-back six-win seasons in 2006 and 2007 to back-to-back bowl championship teams that won 20 games when Edds starred at outside linebacker in 2008 and 2009. His final game for Iowa was a 24-14 dismantling of high-powered Georgia Tech in the 2010 FedEx Orange Bowl.
 
"The pinnacle was winning the Orange Bowl to wrap things up as a senior, finishing 11-2 with a group of guys who had been through some down times," Edds said. "In 2006 and 2007 we weren't very good; we probably fell short of expectations and there is a period where coach (Kirk) Ferentz and coach (Chris) Doyle challenged us; I think we responded.
 
"A group of guys decided we weren't going to roll over and take it; we wanted to be part of turning things around. Being part of that process and seeing everything materialize with a tremendous team effort to win a BCS bowl and to let the coaches have that moment of being able to enjoy the fruits of their labors — that was the most important thing to us."
 
During his career as a Hawkeye, Edds compiled 226 tackles with 12 pass breakups, and seven interceptions. He was named permanent team captain as a senior.
 
Edds resides in downtown Chicago and is working on a master's degree in sports administration from Northwestern University. He started at the Big Ten office in October. A basketball player in high school, this was the first of many Big Ten Wrestling Championships for Edds.
 
One of his first official duties was presenting the Freshman of the Year Award to Iowa's Spencer Lee, who placed third in a loaded 125-pound weight division Sunday.   
 
"I have always had a huge admiration of the work ethic and dedication these guys put in with their self control — physically and mentally — and what it takes to be good," Edds said. "Knowing what it takes to be a championship wrestler, especially at this level, is inspiring. It makes you sit up and take notice of what these guys are doing and their discipline on a daily basis. I'm looking forward to being a part of it."