Hawkeye Fan Shop — A Black & Gold Store | 24 Hawkeyes to Watch – 2017-18 | Hawk Talk Monthly — February 2018 | Week 9 Notes
AMES, Iowa – The University of Iowa women's gymnastics team hits the road to compete against No. 25 Iowa State and No. 19 Missouri on Friday at 6:30 p.m. (CT) at the Hilton Coliseum.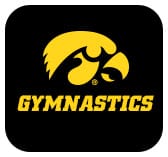 WATCH/FOLLOW ALONG
The meet will be live streamed on Cyclones TV ($). A direct link is on the women's gymnastics schedule page on hawkeyesports.com.
Live stats links throughout the season can be found on the women's gymnastics schedule page on hawkeyesports.com.
THE COMPETITION
Led by head coach Jay Ronayne, the Cyclones are ranked No. 25 nationally with a regional qualifying score (RQS) of 195.745. Iowa State holds an overall record of 16-4 with a Big 12 conference mark of 1-1. Nationally, the Cyclones are ranked 25th on vault (49.005 RQS) and beam (48.995), 27th on bars (49.000), and 38th on floor (49.000).
The Tigers are ranked No. 19 nationally with an RQS of 196.240. Mizzou holds an overall record of 6-6 and an SEC conference mark of 3-6 under head coach Shannon Welker. Nationally, Missouri is ranked 19th on vault (49.055 RQS), 20th on beam (49.075), 21st on floor (49.170), and 23rd on bars (49.065).
LAST TIME OUT
After defeating Southeast Missouri State, 195.500-192.750, at Carver-Hawkeye Arena on March 2, the Hawkeyes fell to Texas Woman's University, 195.575-195.525, on March 4 at Kitty Magee Arena.
The Hawkeyes earned a season-high 49.225 on floor against Southeast Missouri State.Charlotte Sullivan recorded a season-best 9.900 for the win on bars. Seniors Melissa Zurawski and Lanie Snyder tied for the floor title, both posting a 9.925, a mark that ties for tenth-best in program history. This is a career high for Zurawski.
Three GymHawks — Zurawski (bars, 9.875), Snyder (floor, 9.875), and junior Nicole Chow (beam, 9.875) — also won event titles against the Pioneers.
IN THE RANKINGS
Iowa is ranked seventh in the Big Ten Conference and No. 29 in the nation with an RQS of 195.660.
As a team, the GymHawks rank 24 on beam (49.000 RQS), 29 on floor (49.090), and 35 on bars (48.840) and vault (48.835).
Four Hawkeyes rank in the top 100 nationally in event standings:
All-Around: Sophomore Charlotte Sullivan ranks 56th (39.030 RQS) in the all-around, while junior Nicole Chow ranks 75th (38.750).
Bars: Senior Melissa Zurawski is 77th (9.840) in uneven bars standings.
Beam: On beam, senior Nikki Youd ranks 46th (9.865), and Chow ranks 57th (9.855)
Floor: Senior Lanie Snyder stands at 27th (9.890) in floor standings.
FOLLOW THE HAWKEYES
For an inside look at the Iowa gymnastics program and access to exclusive coverage, "like" Iowa Women's Gymnastics on Facebook and follow @IowaGymnastics on Twitter, Instagram, and Snapchat.