Hawkeye Fan Shop — A Black & Gold Store | 24 Hawkeyes to Watch – 2017-18 | 2018 UWW World Cup | Hawk Talk Monthly — March | NCAA Wrestling Central | NCAA Notes | NCAA Brackets | Photo Gallery
By DARREN MILLER
hawkeyesports.com
CLEVELAND — Vince Turk will be the first Hawkeye to compete at the 2018 NCAA Championships on Thursday in Quicken Loans Arena. It will be his first collegiate appearance on a national stage, but he is well versed on expectations once he slips into his University of Iowa singlet.
 
"When you're wearing the black and gold, the goal is to win," Turk said. "And win with style."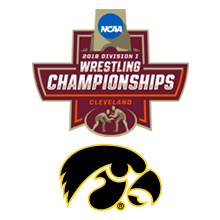 Turk, a sophomore, has a pigtail match at 141 pounds against Kyle Shoop of Lock Haven (34-12), who placed third at the Eastern Wrestling League Championships on March 3 in Edinboro, Pennsylvania.
 
"Let's get the Hawkeyes off to a good start, pick up the win, and get ready for the next one," Turk said. "I know I can beat him, I just have to push the pace, get to my attacks, and get to my offense. That's where I'm best."
 
Turk is unseeded at nationals, but he was in a similar position nearly two weeks ago at the Big Ten Championships in East Lansing, Michigan. There, he went 4-2 with five matches against seeded wrestlers, including bouts against three of the top four seeds. Turk finished fifth and earned an automatic berth to his first NCAA Championships.
 
"What is seeding?" Turk asked. "Everyone is 0-0 in the postseason. I look at it as I can beat anyone in this bracket. The difference between not placing and being first is probably four points."
 
The Hawkeyes have not had an All-American at 141 pounds since Montell Marion finished runner-up in 2012. With a 13-8 record, Turk could appear to some as a long shot for the medal stand. But consider this: he has won five of his last seven matches and his last eight matches have come against opponents ranked between No. 5-28 in the country.
 
The Vince Turk who lost to No. 17 Tyson Dippery of Rider in November wouldn't stand a chance against the Vince Turk who defeated No. 12 Chad Red of Nebraska in March.
 
"I have changed so much since the beginning of the season," Turk said. "I have gotten better."
 
Turk is one of six freshmen and sophomores in the Hawkeyes' national championship lineup. Age won't be an obstacle for him, considering he has been wrestling since he was 4-years-old.
 
"These guys have been getting ready for big matches for a long time and I know they are excited for this chapter," Iowa head coach Tom Brands said. "It's not about the experience, it's about knowing you have firepower and it's time to go and don't leave anything undone."
 
The NCAA Championships span from Thursday-Saturday and will be broadcast on AM-800 KXIC and streamed online at hawkeyesports.com. Television and streaming coverage will be provided by the ESPNU/ESPN2/ESPN.
 
The city of Cleveland is serving as host to the NCAA Wrestling Championships for the first time since 1998. Iowa won the national title that year and the individual champion at 142 pounds was Jeff McGinness.
 
A Hawkeye.
 
"It's not where I start, it's where I finish and I look to finish at the top," Turk said.